Happy eating: Ingredient to a long life, in your cereal bowl
Early studies have shown eating a diet rich in cereal fiber can help reduce risk for diabetes, cancer, inflammation and obesity
Jen Christensen | 3/30/2015, 11:07 a.m.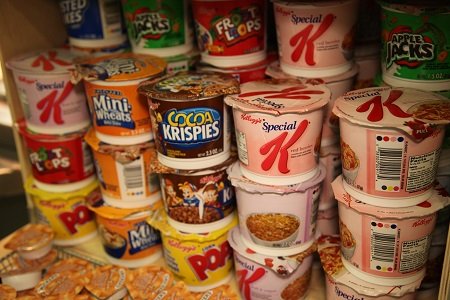 continued — Consider oatmeal or a non-high fiber cereal (3 to 5 grams), eat a piece of wheat bread (about 5 grams) or a whole wheat tortilla (about 5 grams). Black beans are a rich source for dietary fiber (19.5 grams). And add even some fruit like apples (a large one has 4.5 grams) or a half a cup of blackberries (4.4 grams) all of that would add up to this 'higher' total that may improve your odds of living a longer life.
And if you don't want to spend hours reading labels at the grocery store, dietitian Lori Zanini said she tells her clients this fiber rule of thumb: "No animal product will naturally have this," Zanini said. "Plants are where you should go to find fiber. It only comes from the cell walls of plants."
Most Americans, she said probably don't get the amount of cereal fiber or whole grains recommended as advantageous in this study. "But once you consciously seek it out, it does become easier," Zanini said "And with the wide variety of ways you can get fiber into your diet it isn't hard, especially if you know it may help your health."
The operative word is "may," study author Dr. Lu Qi said. Keep in mind the study looks at connections; it doesn't show causality. To definitively show cereal is the key to long life, the professor at the Harvard medical school and Harvard's school of public health said, you'd need a clinical trial that would look at this specific issue.
That said, Qi personally is a believer in the breakfast food. He said he eats cereal regularly to start his day. Harvard even provides breakfast for free to the faculty. And if it's good enough for doctors at Harvard, they may just be on to something.
The-CNN-Wire
™ & © 2015 Cable News Network, Inc., a Time Warner Company. All rights reserved.