Indiana backlash: What you need to know about the Religious Freedom Restoration Act
Critics say it discriminates against the LGBT community
Ed Payne | 3/31/2015, 1:30 p.m.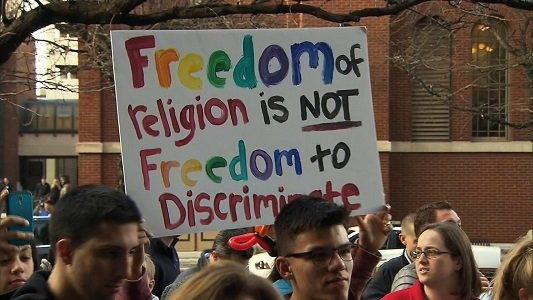 (CNN) — Gov. Mike Pence unleashed a firestorm on Indiana last week when he signed the Religious Freedom Restoration Act.
Critics of the law contend it could be used by individuals and businesses to discriminate -- particularly against the LGBT community of lesbian, gay, bisexual and transgender individuals -- on the basis of religion.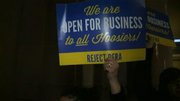 The ramifications for the Hoosier State are just starting to be felt in the form of boycotts, petitions and travel bans.
As the controversy mushrooms, here's what got us to where we are. And where things are headed.
The act is signed
Last week, Pence put his signature on the RFRA -- a law that allows Indiana businesses to cite their religious freedom as a legal defense.
The law states that the government can't "substantially burden a person's exercise of religion" and that individuals who feel like their religious beliefs have been or could be "substantially burdened" can lean on this law to fend off lawsuits.
In an opinion piece in The Wall Street Journal, Pence says the RFRA "ensures that Indiana law will respect religious freedom and apply the highest level of scrutiny to any state or local governmental action that infringes on people's religious liberty."
Pence notes that there is no reference to sexual orientation in the law.
The backlash is immediate
Civil liberties and gay rights groups hold to their stance that the law could be used by businesses to deny service to people based on their sexual orientation and justify that discrimination based on their religious belief.
"Silence is consent!" tweets Laurel Davilia, a commentator on Brass Knuckles Progressives Radio.
Boycotts begin
From sports teams to musicians to other cities and states, they fell like dominoes.
The NCAA, which is headquartered in Indianapolis and set to host its men's basketball Final Four in the city this week, said the law could lead it to move events elsewhere in future years. The NBA, WNBA and NFL issued critical statements too.
Indianapolis Colts owner Jim Irsay says fans of all stripes are welcome.
"The Colts have always embraced inclusiveness, tolerance, and a diverse fan base," Irsay tweets. "We welcome ALL fans to Colts Nation. ONE FAMILY!"
A petition posted on change.org hopes to get the Big Ten Conference to move its football championship out of Indianapolis.
"I think that Indiana needs to be told that it must respect all persons regardless of sex, age, religion, gender identity, or sexual orientation," Sean Burke of Madison, Wisconsin, says in the petition. "As a football fan, I think we can send a message by calling on the NCAA and Big Ten Conference to take a stand."
Lucas Oil Stadium in Indianapolis is scheduled to host the league's championship game through the 2021 season.
At last check, the petition had more than 11,000 supporters.
The mayors of San Francisco and Seattle have barred spending on travel to Indiana. The governors of Connecticut and Washington state did the same thing.
And you can add Wilco to the boycott bandwagon. The group is canceling its May 7 show in Indianapolis, it says on Facebook.