Strawberry-Almond-Kale Salad with Citrus Vinaigrette
PETA | 5/4/2015, 2:15 p.m. | Updated on 5/4/2015, 7:30 a.m.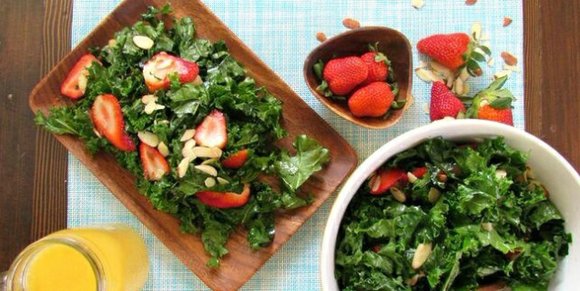 BALTIMORE,Md. — 1 bunch kale, stemmed
1 lb. strawberries, sliced
1/4 cup sliced almonds
Juice of 1 lemon
2 Tbsp. olive oil
1 Tbsp. agave
1/8 tsp. salt
1/8 tsp. black pepper
3-4 Tbsp. orange juice (optional)
Tear the kale into bite-sized pieces and massage with your hands until soft, about 30 seconds. (This makes the kale easier to eat.) Place in a bowl and add the strawberries and almonds.
To make the dressing, combine the lemon juice, olive oil, agave, salt, and pepper and pour over the salad. For an extra kick, splash orange juice over the salad and enjoy!