Wrapping Up the Ravens 2015 NFL Draft
Turron Davenport | 5/4/2015, 4 p.m. | Updated on 5/4/2015, 8:31 a.m.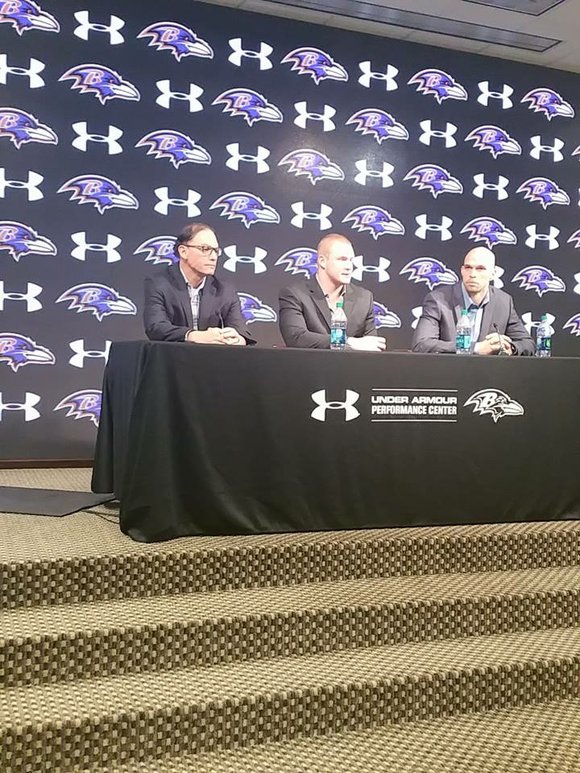 The Baltimore Ravens were able to field a pretty impressive group of prospects in the 2015 NFL Draft. They selected players that will replace some players that they lost to other teams via free agency. The Ravens made a concerted effort to select players that would fit into new offensive coordinator Marc Trestman's offense. Trestman couldn't keep from smiling as he talked about the new additions to the roster. The new group of offensive players also compliments the strengths of quarterback Joe Flacco.
Here are the Ravens 2015 NFL Draft selections:
Breshad Perriman WR Central Florida 6-2, 212 pounds 1st Round (26th)
Perriman is a serious deep threat that will be called upon to offset the loss of Torrey Smith. Smith and Perriman actually look very much alike when watching them play. The Ravens will need to take deep shots to Perriman down the field, which is a strength of Joe Flacco's. Perriman's ability to be a vertical threat opens up a lot of things for the offense.
Perriman: "For the most part, I would have to compare myself to Julio Jones. He's kind of a big receiver like myself, but he can play as a small receiver as well. He can stretch the field vertically, he has great quickness and he's physical. That's the one I like to compare myself to."
Receivers coach Bobby Engram: "He puts pressure on the defense, and if he's winning his one-on-one matchups, then the defense has to account for that. He has great size and speed. He has the ability to take a short gain and take it to the house. You see him working in the run game – all of the things that we're going to ask him to do at this level."
Maxx Williams TE Minnesota 6-4, 250 pounds 2nd Round (55th)
Williams is another Flacco friendly pick. He was the best receiving tight end in the draft. His ability to use his size in the red zone will be one area that the Ravens will look for a contribution from Williams right away. He said that the area of his game that he would like to improve upon the most is his blocking.
Williams: "As a receiver, I try to makes plays. That's the best way I can describe it. I try to use my body as a tight end knowing that I'm a little bigger than a receiver. I try to use my body, manipulate it and make the catch."
John Harbaugh: "I had watched [Williams on tape] – and I don't call [DeCosta] too often – and I called him right away and said, 'How about this kid at Minnesota?' He's really a good fit for our offense. He does – as Ozzie said – complement Crockett really well, and it works well for us in terms of what we want to do offensively."
Carl Davis DT Iowa 6-5, 320 pounds 3rd round (90th)
Carl Davis is a big lineman that played very well at the Senior Bowl practices. He will add to the depth on the defensive front. Davis is very good at taking on double teams and uses his hands to disengage from blockers.