Renewed hope for Baltimore Korean family after store is destroyed
Friends and strangers set up online fund-raiser to help the Chungs repair their store
Jareen Imam | 5/7/2015, 10:33 a.m.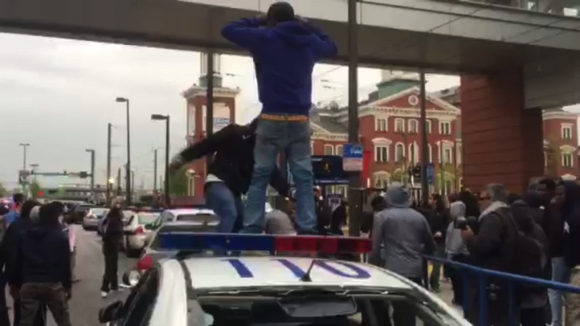 (CNN) — The day after rioting rocked parts of Baltimore, Matthew Chung stared in disbelief at a video clip circulating online, showing an older Korean woman sobbing as a man props her up to keep from collapsing.
According to the description, the woman was a shop owner who had just found out her store was destroyed by rioters.
That woman was his mother.
Confusion, anger and sadness gripped Chung as he started to realize that his parents' wig and beauty store, which has been on Pratt Street for 30 years, was the target of looters on April 27. The protests that turned violent were in response to the death of Freddie Gray, an unarmed black man who suffered a spinal cord injury while in police custody.
Chung, 36, doesn't usually visit Facebook -- friends describe him as a private guy -- but he felt compelled to write a passionate letter sharing his deep frustrations and sadness at seeing his parents' livelihood destroyed.
"My parents came to this country with no money and worked hard to setup a little business that's been in the same neighborhood in Baltimore City for over 25 years," he wrote. "But just in one night everything they have worked for is now all gone."
Chung drove 50 miles from his current home in Arlington, Virginia, to find his parents sitting outside their mangled store, J-Mart Wigs, just trying to figure out what they should do next. The metal security gate was torn open, the glass displays were smashed to bits and most of the merchandise, the wigs, gifts and makeup, was gone.
Several of the stores that were damaged during the riots operated in some of the most economically challenged parts of the city.
The CVS Pharmacy that was set on fire by rioters grabbed national headlines, but other small businesses suffered major losses as well. The pawn shop on the same street as the Chungs' store was burned down during the violent protesting.
Charley Sung, an attorney representing the Chung family as well as five other Korean businesses that were affected by the rioting, said that he does not believe the looting was racially motivated.
Matthew Chung, who was born and raised in Baltimore, was stunned at the devastation when he got to his parents' store. This was a place where he worked when he was younger for some extra allowance money, a small family-owned shop that never seemed to make enough to hire additional employees. His parents worked there every day for 30 years without rest, weekends off or vacations.
His parents were not insured, and the store looked like a total loss. The family didn't know what to do next.
"The city was still protesting. We were sitting in the car waiting and not knowing what was going to happen," Chung said.
In the wake of all the loss, two of Chung's friends and co-workers set up a fund-raising campaign to help repair the store.
"They are the kind of people who would never ask for anything, especially money," said Rebecca Sayres, one of the organizers, who has known the family for a long time.