'Black Words Matter' write-in gives Baltimore students needed forum
Andrea Blackstone | 5/8/2015, 1:25 a.m.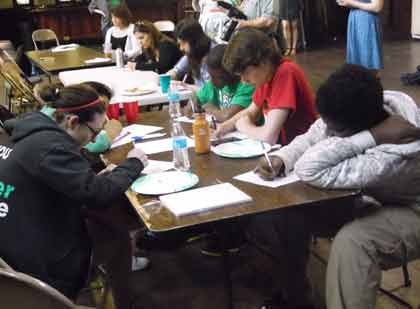 continued — "There are lot of people who don't get these opportunities because they haven't been reached out to," the West Baltimore resident said. "I think this was useful to me because I'm going to take this back home and try to share it with people who were not here or couldn't get there but needed to know about it. It's nice to be around people who feel kind of the same way as me. Even if they don't, they have their own perspectives that I can respect. I love when Baltimore comes together as a community."
Hampton attended peaceful protests, helped to clean up Penn-North after the riots, and visited Franklin Square Elementary/Middle School. She wants to focus on connecting with younger people to help them to process feelings in a positive way.
Hutton and volunteers have also been investing in youth on an ongoing basis. The poetic forum began with Hutton— a graduate student finishing up her masters degree in writing at Johns Hopkins University. She serves as the fulltime director of WBS.
"We run creative writing workshops in Baltimore City Schools on middle and high school level. In the past year…this group of high school kids called 'Black Words Matter' really formed themselves. This is the second write-in they're holding," Hutton said. "We just want to give students a space to talk about these things. Hopefully, this is just the beginning of a conversation."