It's been a long time coming but change has come for Ravens Javorius "Buck" Allen
Turron Davenport | 5/8/2015, 1:19 a.m.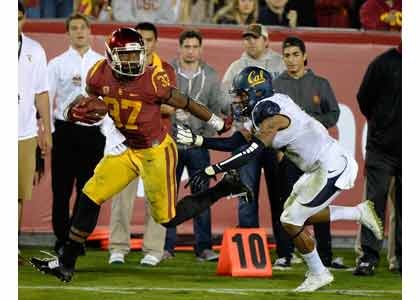 BALTIMORE — The Baltimore Ravens selected University of South Carolina (USC) running back Javorius "Buck" Allen with their second of three picks in the fourth round. Being selected in the 2015 NFL Draft was the culmination of the hard work that was fueled by the everyday struggle that Allen's life has been in the past. He now has the chance to be able to provide for his family and ensure that he never has to return to the difficult lifestyle that he experienced as he was growing up.
Buck Allen, was raised by his grandmother in Miccosukee, Florida just outside of Tallahassee. His father wasn't around and he had a strained relationship with his mother. The one person who served as a father figure to Allen was his brother Devon. Unfortunately, Devon went to prison when Buck was only 12 years old. Despite being in prison, Devon continued to have an impact on his younger brother's life.
College wasn't always something that Buck Allen was interested in. He may not have gone to college if it wasn't for a phone call he got from Devon. Allen reflected on that conversation he had with his brother that changed his life.
"One day he called me and I talked to him." Allen said. "He said that he heard I was doing good and asked me about college. I said, 'man I don't even think that I want to go to college' and then he hung up on me. We had a long talk a couple of weeks later and it hit me, this was the turning point. I knew that I had to make things happen."
Allen used to hang out at the Carrie Wilson Boys and Girls Club in his hometown Miccosukee. It was a place that offered refuge.
"When I was up there, I never worried about things like how to get the next meal or how am I going to get home," he said. "I would just enjoy myself, and when that time came for it to close, I just figured it out from there."
Mickey Cullen became the director at the Boys Club and took a special interest in Allen. He and his wife Alice would have Allen and his younger brother at their house for dinner frequently. They even gave him rides to practice and monitored his progress with teachers. Allen graduated from Lincoln High School in Tallahassee and was offered scholarships to Alabama, Auburn and USC. He chose USC.
Allen was the first person in his family to attend college. Football was the tool by which he would be able to blaze a new trail for the Allen family. Like many young men in the inner city, football provided structure. Buck always loved football even before he had the opportunity to own an actual football. He said that he used to play outside all by himself, using a pinecone for a football when he was younger. His grandmother saw him playing with the pinecone and put together enough money to buy him a football that he subsequently carried with him everywhere.