Life in Baltimore: Celebrating our mothers
Brenda Bowe Johnson | 5/8/2015, 1:27 a.m.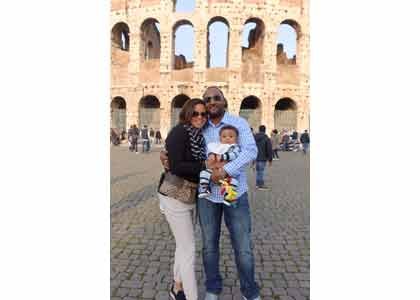 BALTIMORE — The modern American Mother's Day holiday was first celebrated in 1908 when Anna Jarvis held a memorial for her mother in Grafton, West Virginia. Her campaign to make "Mother's Day" a recognized holiday began in 1905. Several states officially recognized Mother's Day in 1910, however in 1914, President Woodrow Wilson signed a proclamation to honor mothers with a national holiday to be held on the second Sunday in May.
Mothers are unique individuals who exhibit unconditional love and support. They are the natural strength of the family, like a tree trunk that supports the branches of a tree, mothers support the dynamics of the family. A mother is someone who loves her children and in many cases loves the children of others. She spreads her wings of joy, comfort and compassion. During this beautiful month of May, new mothers, mothers, grandmothers and great grandmothers will be highlighted. Each one has a different approach to child rearing, but there is a common thread among them, which is love. Celebrate our Mothers!
New mom, Arnelle Renae Boglin feels that her outlook on life changed as soon as she became pregnant. Now she takes time to think before making decisions to ensure that it will have a positive effect on son, Joshua. Watching Joshua grow, learn new skills and take his first steps is a beautiful experience to witness.
While working, Arnelle's mother and grandparents assist with child care because she is uncomfortable putting a twelve month old in care of someone outside of family. Arnelle states "Most of all, I enjoy spending my time being an active mother. I come from a very large and very close family who spend lots of quality time together. My mother has been the perfect example of motherhood to me, so I know that I have a great foundation to follow which comes from my grandmother. That's three generations. I have a little boy who smiles whenever he sees my face, which brings so much love and joy to my heart. Motherhood is a responsibility that I don't take lightly. I cannot imagine my life without my precious baby. He is truly a blessing!"
Before becoming a mom, Aja Page Hill had the impression that being a mom was for women who were ready to stop life and solely focus on being a great parent. She thought Sunday brunches with friends, weekly manicures and trips would come to a screeching halt. Thankfully, she got over that with the arrival of new baby, Ryder. She realizes that being a mom means being the best person possible in order to mold a responsible, caring and intelligent child. Aja makes time for baby, husband Walter, and herself.
Four months into being a new mommy, the Hills had the opportunity to travel to Rome, Italy and guess who they took.Yes, baby Ryder. Aja states "before becoming a mommy I would not have dared taking a trip to Rome with an infant, but the real mommy in me knew as long as he was with his parents, he would be safe and well cared for. Being there helped to reaffirm my notion that just because you have a baby life doesn't stop, it begins. As a new mom in my thirties, maybe even considered a millennial mom, my baby has seen more in his now five months of life that I saw even into my twenties. To me, that's what being a mommy is about."