McRoy promoted to associate head coach of Coppin State men's basketball
5/12/2015, 3:15 p.m. | Updated on 5/12/2015, 11:02 a.m.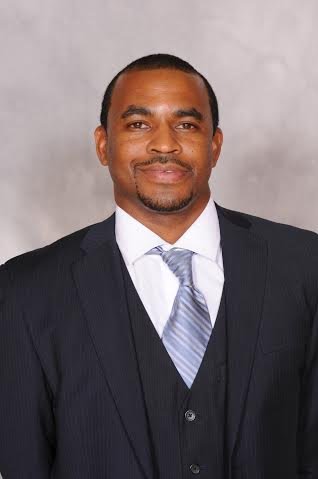 BALTIMORE,Md. — Coppin State's Elwyn McRoy has been promoted to associate head coach of the Coppin State men's basketball team, head coach Michael Grant announced Monday.
McRoy enters his second year on the Coppin State staff. A seasoned, dedicated and passionate coach, McRoy has empowered student-athletes to reach new heights with high principles on and off the court. McRoy will be involved with the day to day operations on and off the floor involving every aspect of the men's basketball program.
"Elwyn has done a terrific job for our program in the time that he has been here at Coppin State," Grant said. "He is ready to handle the challenges and the increased responsibilities in his new role. He has great knowledge and having him work closer with me will benefit our program."
McRoy has a wealth of experience at the NCAA Division I level, McRoy has been an assistant coach at Iowa State, Arkansas State, Georgia Southern, Southern University and Texas-Pan American.
McRoy has received national recognition for his work, as CollegeInsider.com named him the No. 23 mid-major assistant coach in 2009, and Basketball Times Magazine selected him as one of the top 10 junior college recruiters in the country in 2008. He was also profiled in the Chronicle of Higher Education in 2013. In addition at UTPA, McRoy was voted as the No. 2 recruiting coach in the Western Athletic Conference by Next Up Recruits.
"I'm very honored and thrilled to be named Associate Head Coach here at Coppin State University," McRoy said. "I have played for, worked under, and have been mentored by Coach Grant for many years. During that time, I have learned valuable things not only about how to build and run a program, but also how to sustain a successful team. Coach Grant has given me the opportunity to be very involved with the day to day operations since I began working at Coppin State."
University of California head coach Cuonzo Martin, a former Purdue star, has known McRoy for a long period of time and believes in his ability to do great things at Coppin State.
"He's battle-tested and a relentless recruiter," Martin said in a Basketball Times story in September. "He's worked in a lot of cities and states, so he's built relationships. His personal hardships, because of some of the things he has experienced, will help in his relationship development with players."
McRoy has a great degree of familiarity with the junior college ranks as he started his career with two years as an assistant coach at Butler Community College from 1997-99. He also worked with Coppin's current coach Grant at Stillman College as an assistant coach during the 2012-13 season.
After one year as an assistant coach at Independence Community College, McRoy assisted with the boys' basketball team at Wichita Southeast High School before returning to the collegiate ranks as an assistant coach at Redlands Community College, where he helped the team to a program-best 30-5 record and a national championship.