Hall of Fame stable a family affair for Leatherbury, Thorpe
Legendary horseman, longtime assistant team up for success
Phil Janack | 5/15/2015, 6 a.m.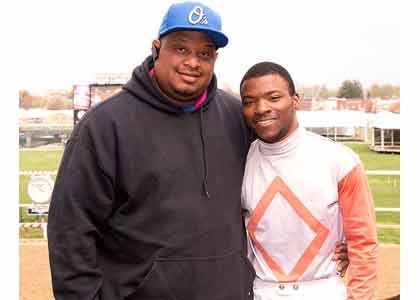 BALTIMORE — Assistant trainer Avon Thorpe has described his two and a half decades of working in several roles for recently elected Hall of Fame horseman King Leatherbury as a family affair.
Never was that more true than on January 15, when Thorpe's 19-year-old nephew, Darius, won his first professional race aboard the Leatherbury-owned and trained Rainbowappears at Laurel Park.
Being his uncle is a mere technicality. Thorpe has raised Darius from a young age since his father died. Their relationship is clearly seen and more accurately described as father and son.
"I didn't adopt him, but I raised him. He's always called me 'Pops,'" Thorpe said. "He's my son now."
"He's been the biggest help that I could ever get," Darius Thorpe said. "He exposed my face to people that he knew to give me a better shot and just show what I can do, having seen me grow up and seeing my improvement. It makes me feel blessed."
Avon Thorpe was 18 when he started working for the now 82-year-old Leatherbury as a hotwalker at Pimlico. Now 42, Thorpe steadily rose through the ranks of the barn, now based at Laurel Park, to become Leatherbury's trusted, hands-on assistant."I didn't even know him. It was a case of just hiring him and him lasting and doing a good job," Leatherbury said. "Avon kind of graduated and worked his way up into that position. He does a real good job. He's on top of everything and very knowledgeable. He keeps people straight."
Thorpe said he's never considered going out on his own, and is content to work with the Mid-Atlantic legend who ranks fourth all-time in wins and was announced April 20 as a member of the National Museum of Racing and Hall of Fame's Class of 2015 – his first year on the ballot.
"If it ain't broke, don't fix it. King gave me an opportunity to learn a lot and he lets you pretty much use your own judgment on a lot of things where a lot of other trainers probably won't do that. He treats me like a son," Thorpe said. "I stayed because I saw an opportunity. It was my time, and I never looked back. I don't plan on leaving." Thorpe is now passing that knowledge down to Darius, who has been an eager student from the time he was young. "At 8 years old he said, 'I want to be a jockey.' He kept saying it and I told him, 'Boy, you're going to get too big,'" Thorpe said. "At 8 years old he was in the tack room, just riding a saddle on the sawhorse the saddle sits on. When he got in high school, I got him an Equicizer so he could practice. All day and all night he was on that horse. I had to tell him to go to bed.
"He paid attention a lot. He looked at every race everywhere. He watched the good riders. He stuck with it, and it means so much," he said.