Hall of Fame stable a family affair for Leatherbury, Thorpe
Legendary horseman, longtime assistant team up for success
Phil Janack | 5/15/2015, 6 a.m.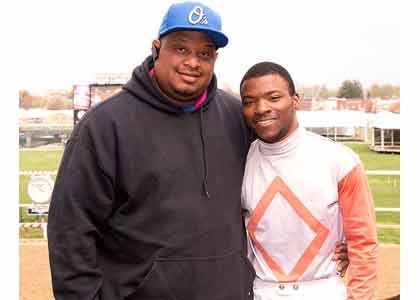 continued — "That's what he loves. That's what he wanted to be, and I'm going to stand behind him 100 percent. He's still going to college to have something to fall back on if he gets too heavy or whatever. I just like to let him live his life. I'm doing what I want to do and what I love, and I want him to do the same."
Darius Thorpe juggles studying architecture at Ann Arundel Community College with riding. He has two wins, three seconds and four thirds at Pimlico's spring meet, which opened April 2 after going 61-2-6-8 during the winter session at Laurel Park that ran Jan. 1 to March 29.
"Pretty much since I've been little I've been around the track. I always found a comfort zone being around horses, so I knew I wanted to do this for a long time," he said. "It's been better than I expected. It's picking up."
An apprentice currently riding with a 10-pound weight allowance, Thorpe's first win came as an amateur last year before launching his professional career in the fall at Laurel Park. Getting his first pro win for his father and Team Leatherbury made it extra special.
"It made me feel blessed to know that I had the chance to win for a Hall of Famer who gave me a shot on a good horse. Everything just played out right," he said. "I just want to stay humble, always listen and follow directions and be the best rider I can be for as long as I do this."
Thorpe won the first race of the current Preakness Meet at Pimlico by a nose aboard Gold Hill ($29), and rode $28.20 winner Sizzling Lassie on the Federico Tesio undercard April 18 for owner-trainer Robert Gamber.
"I heard a good report on him when he won that race. Eric Camacho, who's a friend of mine and a good rider, said he switched sticks good and looked good on a horse," Leatherbury said. "That's what he's got to do, just get more experience. The more you do something, if you're good enough, you're going to benefit from it."