Power Punch Kale Caesar Salad
5/16/2015, noon | Updated on 5/16/2015, 1:55 a.m.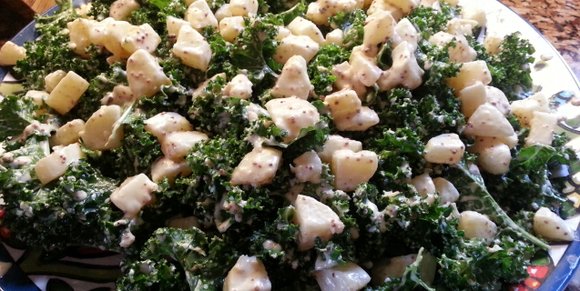 BALTIMORE,Md. — 10 medium potatoes, cubed
1/2 cup olive oil
3/4 cup Vegenaise
2 Tbsp. fresh lemon juice
2 Tbsp. apple cider vinegar
2 Tbsp. whole-grain stone ground mustard
2 tsp. vegan Worcestershire sauce
6-8 cloves garlic, minced
Pepper, to taste
20 large kale leaves
2 cups homemade or store-bought croutons
1/2 cup sunflower seeds
Boil the potatoes until tender but not mushy. Drain and set aside to cool.
Mix the olive oil, Vegenaise, lemon juice, apple cider vinegar, mustard, Worcestershire sauce, garlic, and pepper together in a large bowl and set aside.
Place the kale leaves and cooked potatoes in a large bowl and add the dressing in small amounts until the desired ratio is reached. Toss.*
Add the croutons and toss again.
Sprinkle with sunflower seeds and serve immediately.
Servings: Makes 8 to 12 servings