VIDEO: From 'crack baby' to the mayor's office
Ashley N. Vaughan | 5/19/2015, 9:25 a.m.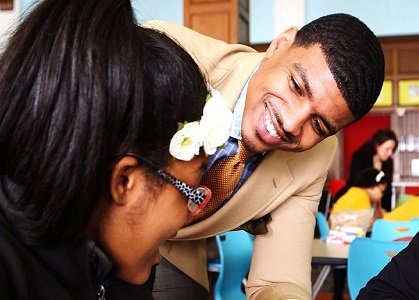 (CNN) — Looking at Shawn Blanchard today, it's hard to believe the polished, well-spoken University of Michigan grad and Detroit city official once envisioned a life as a kingpin drug dealer.
"Never judge a book by its cover." He laughs.
For Blanchard these words are more than a personal motto -- they are a heartfelt mission to those in need of change. The Detroit native is now dedicating much of his life as a mentor helping men and women to set goals and tap into their fullest potential.
As a child, Blanchard's childhood was anything but traditional. He says he was born with drugs in his system to a mother who supported herself by shoplifting and to a father he barely saw.
With both parents unable to care for him, Blanchard was given to his paternal grandmother. He says, it was his grandmother who taught him the importance of having an education.
"My grandmother was always demanding when it came to school," he recalls. "She made sure school was at the forefront of my mind."
However, despite her efforts to keep him on track, Blanchard says his life was instantly "turned upside down" when his grandmother passed away.
"She was the rock of my life. I didn't know what I was going to do."
At 12 years old, Blanchard was on his own.
"I became an old man at the age of 12. I had to be pretty independent" he remembers.
His two oldest brothers, who were Detroit drug dealers, were his role models.
"One of my brothers was considered one of Detroit's most notorious drug lords." He reveals.
"He had it all ... I wanted to be just like him." He says. "Once my grandmother was gone, there was no filter."
In a neighborhood saturated with gang activity, drug sales, and crime, Blanchard says successful professional role models were hard to find.
While there were some blue-collar factory workers in the community, he admits they didn't share the same wealth and lifestyle that his brothers had.
"The same things you would see celebrities on TV have, they had." He says. "And, they had respect."
Also, Blanchard couldn't work in a factory at 12 -- but selling drugs had no age requirement.
"I had this duality going on. I was this smart kid, but at the same time I was selling drugs." He says. "I lived a double life."
Blanchard says a part of his transformation happened when one of his brothers was killed in a drug transaction and the other was shot and went to prison.
"It didn't look like it was going to end pretty well." He says.
"I had to be a bit more strategic and make a choice. Am I going to do this the right way? Or am I going to do this the wrong way. So I started to focus on the right way.
After high school Blanchard went onto the University of Michigan. He credits the help of a high school counselor to get him get there.