Hattie Washington offers inspiring story during National Foster Care Month
Andrea Blackstone | 5/22/2015, 6:10 a.m.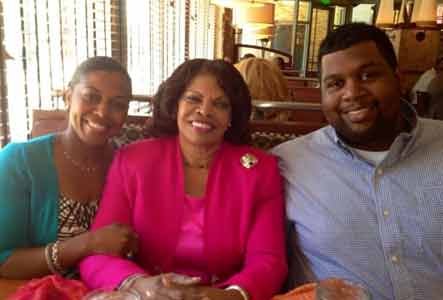 BALTIMORE — While focusing our attention on National Foster Care Month in May, Dr. Hattie Washington is a living example that investing in foster children is worth the effort and time. Hattie Washington believes that it takes a village to raise a child. The professor who has worked at Coppin State University for 20 years opened Aunt Hattie's Place in 1997 to exclusively provide a foster boys group home. Today, Aunt Hattie's Place is a safe haven located in Baltimore City for boys ages 17-21.
On April 26, 2015, Washington and supporters celebrated 18 years of providing service at Aunt Hattie's Place. The annual gala is the nonprofit organization's major fundraiser. Washington debuted her new book, "Driven To Succeed: An Inspirational Memoir of Lessons Learned Through Faith, Family and Favor," during the joyous occasion. In addition to recounting personal experiences, the inspirational memoir partially explores Washington's journey to founding the non-profit, when she was Assistant Superintendent of Baltimore City Schools. Proceeds from books sold at the gala will help to support Aunt Hattie's Place programming and the Aunt Hattie's Place Scholarship Endowment for aspiring college students.
"Aunt Hattie's Place is a home for foster boys who have been abused, neglected and abandoned. I didn't start out opening a group home. I started out as a foster parent, because I found kids on the corner in the middle of the day. I just stopped the car to see why they were out of school, because they were in my school district. They told me they were foster kids, and they didn't know what school they were supposed to attend, because they didn't have a permanent address. I tried to determine how could that be," Washington said. "I took them (the boys) back to my office. My secretary called Social Services. I took them home, supposedly for one night. One night became one week and [that turned into] one month. After several months, I decided to keep them, because they were no trouble at all."
The caring mother of two biological daughters unexpectedly became a foster parent. Washington hired a housekeeper and a cook to help provide support for her growing household. After realizing that the boys needed more resources than Washington could provide in a foster home, she pursued opening a group home. By the end of 2010, Washington had three running boys' homes with the capacity to serve 26 foster boys.
"At Aunt Hattie's Place, all staff, board members and volunteers are called aunts and uncles by the young men to give them the feeling of inclusion into a family," Washington said.
For six years one of her biological daughters, Cheryl Washington, served as the Executive Director of Aunt Hattie's Place. She placed her legal career on hold to help. Charrell Washington Thomas— a physician in Florida— is Hattie Washington's other daughter who has always been understanding when foster youth found their way into their family circle over the years.
Washington encourages more people to get involved with kids to "see what's going on."