Ravens fifth round draft Pick Robert Myers is 'Living the Dream'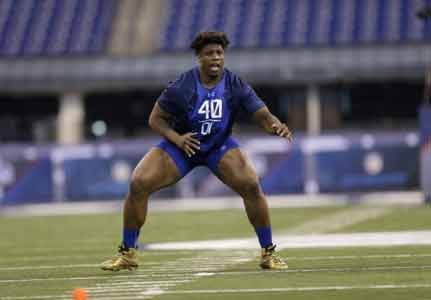 BALTIMORE — The Baltimore Ravens have always had a penchant for drafting players from Historically Black Colleges (HBCUs). They selected two players from a HBCU in the 2015 NFL draft. Tray Walker is a cornerback from Texas Southern that was selected in the fourth round. The other selection was Robert Myers from Tennessee State. Myers is the second player (Anthony Levine) to come to the Ravens from Tennessee State.
Myers is somewhat of a late bloomer. He didn't play football until his junior year of high school in La Vergne, Tennessee. He saw his first game action during his senior year. Being able to make it to this point is an awesome accomplishment. Myers spoke about that on a conference call after he was drafted the Ravens.
"It's truly a dream come true getting a chance to play in the NFL. This is an opportunity of a lifetime and I feel blessed that I'm in this situation." Myers said. "I didn't even start playing football until my junior year of high school and didn't see the field until my senior year. For someone who didn't play any football until my senior season in high school, I'm extremely fortunate and blessed."
He was the only player to be a starter on offense for all 12 of Tennessee State's games last year. He was the anchor for an offensive line that didn't allow a single sack over the last four games of the season. Myers was the only player to represent Tennessee State at the NFL Combine and said that he was proud to represent the program that was the only one to give him a shot out of high school.
Despite the late start, Myers says that football is his life. He said that he can't wait to play football as his job. He knows that the NFL is the biggest stage and playing at the highest level is like 'living the dream' for Myers. There weren't many big crowds and bright lights at Tennessee State so it will be an adjustment but Myers has the personality that is big enough to handle it.
An example of Myers' big personality is his outfit for the team interviews at the NFL Combine. His outfit was different from the normal warm up suit that the other prospects wore. Myers' went to team meetings in a charcoal suit with a light blue dress shirt and a red tie.
He spoke about the interview experience with The Tennessean. "I think I really impressed them when I threw that suit on," Myers said. "I approached this like it was a job interview. I feel like I have a good personality and a good sense of humor. I wanted to show it's a business interview in my mind, and I was approaching it that way. Everybody said I looked sharp. I got some nice feedback."
Myers earned the nickname "Quadzilla" at the combine because of a wardrobe malfunction during drills at the combine. He was wearing compression shorts that rode up to reveal his massive quadriceps muscles. Pictures of his tree trunk-like legs quickly went viral and the nickname was born. The massive legs where the result of plenty of hard work by putting long hours in at the gym. The will to grind was instilled in Myers by his mother who raised six kids. Myers calls her the hardest worker that he has ever seen.