Quick Hits and Quotes from Ravens Organized Team Activity
Turron Davenport | 5/29/2015, 9:39 a.m. | Updated on 5/29/2015, 9:39 a.m.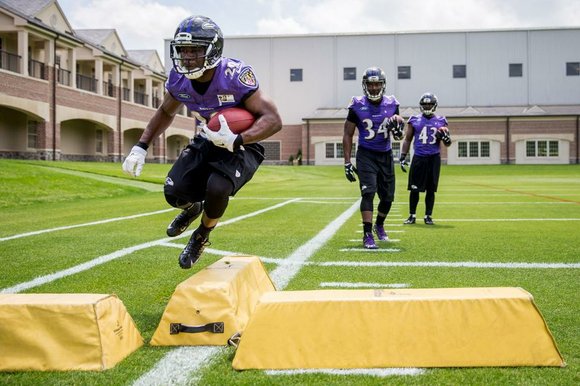 BALTIMORE,Md. — The Baltimore Ravens held their first day of Organized Team Activities that was open to the media on Thursday. There were a few players missing from the voluntary meetings including Terrell Suggs, Chris Canty, Elvis Dumervil and Lardarius Webb. The practice was fast paced as the team worked through various periods. Here are some quick hits from the Ravens practice:
New offensive coordinator Marc Trestman is very hands on coach. He was involved in drills, lining up as a cornerback against the wide receivers and running with the plays during team period to get a better viewpoint. He was really vocal about some of the small details that are required in his offense. The detail oriented mindset that Trestman exhibited is something that Joe Flacco commented on in his post-practice press conference.
Za'Darius Smith showed a pretty quick first step as he got a jump on the ball numerous times. He was able to set the edge pretty well on running plays where the running back was trying to string the run outside. Granted, they were not in pads but his hand placement was on point as it allowed him to turn the offensive linemen back towards the line and force the running back to cut back. Smith also made an athletic play when he jumped up and intercepted a screen pass that Matt Schaub was trying to throw over his head.
The Ravens entire starting offensive line was not at OTAs. Rookies Maxx Williams, Brett Perriman and Buck Allen were not at OTAs because they are in Los Angeles at the NFLPA Rookie Premiere event.
Steve Smith Sr. was present at OTAs and made some pretty nice catches, going up and snatching the ball out of the air on a few deep in breaking routes.
Cornerback Kyle Arrington went back into the locker room after he landed awkwardly on his back during practice.
Tight End Dennis Pitta worked out separately with tight ends coach Rich Angulo. He ran some routes and caught the ball well. Pitta also took part in individual cone drills but didn't participate in practice.
Inside Linebacker C.J. Mosely took part in some drills. He had his wrist wrapped and sat out of team and seven on seven periods during practice.
Cornerback Jimmy Smith is ahead of schedule as he is recovering from foot surgery according to head coach John Harbaugh. He was supposed to wear the red jersey that designates a player as injured but he only tucked it into his shorts like a towel. Smith had limited participation in practice.
Safety Terrence Brooks is also ahead of schedule as he recovers from his knee injury. He was on the field in uniform but didn't practice.
Defensive End Brent Urban was not at practice due to a personal family issue.
Defensive Tackle Kapron Lewis-Moore seems to be recovered from injury and was very active on the field along with Timmy Jernigan, Casey Walker and Za'Darius Smith.
John Harbaugh on coaching changes: I'd rather be changing coaches because the coaches are becoming head coaches rather than the other reason that coaches get changed in this league. I am pretty happy with that.