Heaven over hospital: 5-year-old changes the conversation about death
Elizabeth Cohen | 11/5/2015, 1:30 p.m.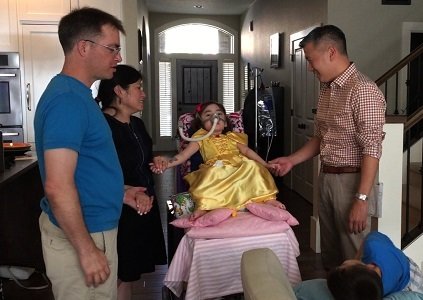 (CNN) — When Stephanie Hunter had to withdraw life support from her mother, her friends and family understood. They expressed their condolences, said she'd made the right decision, and some even shared stories about the tortured choices they had made for their own dying parents.
But four years later, when she and her husband had to make a similar decision for their terminally ill baby, that support disappeared. No one understood. Family and friends said the Hunters were killing their child.
That's why Stephanie and her husband, Justin, have remained quiet about the death since it occurred three years ago. "They made us feel so ashamed," she said.
But last week that ended. Stephanie said a CNN story about a family's decision for their terminally ill 5-year-old was an important first step in changing the way people think about end-of-life decisions for terminally ill children. Now, she says, the shame is starting to disappear, the taboo starting to fade.
"I am so thankful for your (family's) unbelievable bravery and strength in telling and standing by the decision your family has made," she wrote in response to a blog written by the mother of the 5-year-old girl, Julianna Snow.
'We felt so alone'
When Wyatt Hunter was a week old, blood clots burst in his brain. Doctors told the Hunters that he would be in severe pain the rest of his life -- pain that not even around-the-clock morphine would erase. He would never be able to do anything more than breathe on his own. He wouldn't be able to blink his eyes, let alone walk or talk.
The Hunters didn't want their son to live that way, so they made a decision no parent should ever have to make: They decided to withhold nutrition from Wyatt.
His doctors supported that decision, but some close friends and relatives told them they were starving their baby. Stephanie's grandmother threatened to come to the hospital and feed Wyatt when the parents were out of his room.
Wyatt died two weeks later.
"We knew it was the right decision. Our doctors told us it was the right decision. But we felt so alone," Stephanie remembers.
That's how Julianna Snow's parents felt. When organizations such as the National Institutes of Health talk about end-of-life decisions, it's about adults. While there are a few notable exceptions, such as the Courageous Parents Network and the Conversation Project, not many places talk about end-of-life care for dying children.
Julianna has an incurable neuromuscular disorder, and the next time she gets a cold, her body will be too weak to fight it off. The hospital likely won't be able to save her -- but even if it could, she would likely face a terrible quality of life.
Her parents, Steve Snow and Michelle Moon, asked her if she wanted to go to the hospital the next time she got a cold. She chose heaven, and they say they'll abide by her wishes to die at home.