University of Missouri campus protests: 'This is just a beginning'
School president resigned just days after football players demanded his ouster
Doug Criss | 11/10/2015, 9:20 a.m.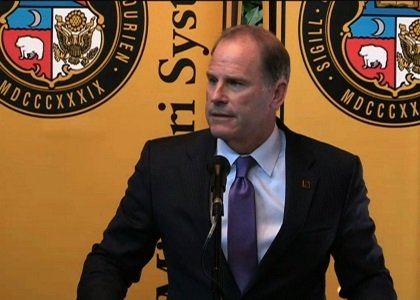 (CNN) — This morning, students will head to classes as they have always done. The football team will take to the field to prep for their game against Brigham Young University next weekend.
But something is very different at the University of Missouri campus.
Students on Tuesday woke up to what protesters call a small but important victory: a weeks-long protest movement that ousted both the university president and the school's chancellor.
African-American students at Missouri have long complained of mealymouthed response by school leaders in dealing with racism on the overwhelmingly white Columbia campus. Black student leaders have conveyed their displeasure over students openly using racial slurs and other incidents.
Things reached a critical mass Monday when university system President Tim Wolfe stepped down, followed shortly afterward by Chancellor R. Bowen Loftin.
"This is just a beginning in dismantling systems of oppression in higher education, specifically the UM system," Marshall Allen, a member of the protest group Concerned Student 1950, said.
The resignation
The speed of Wolfe's resignation shocked many. As late as Sunday, Wolfe didn't sound like a man who planned to leave his job, putting out a statement expressing a desire to have an "ongoing dialogue to address these very complex, societal issues."
But the tide had already turned against him Saturday night, when about 30 black members of the Missouri Tigers football team declared in a tweet that they wouldn't play until Wolfe was gone. By Sunday, more members of the team and head coach Gary Pinkel publicly backed the players and the media started paying attention.
By Monday morning student groups were calling for walkouts and some faculty offered protesting students their support. The calls for his resignation grew louder.
So Wolfe -- who had presided over the university system, which includes the main University of Missouri campus in Columbia, along with the University of Missouri-St. Louis, University of Missouri-Kansas City and Missouri University of Science and Technology -- stepped down, saying he took "full responsibility for the inaction that has occurred" and urged the university community listen to each other's problems.
"It is my belief we stopped listening to each other; we didn't respond or react," he said. "Use my resignation to heal and start talking again."
Students, faculty and staff converged on the Carnahan Quad following Wolfe's announcement. There, they linked arms and swayed side to side, singing, "We Shall Overcome."
The incidents
Though the protesting students and some faculty say racial problems on campus go back decades, the current crisis took flight back in September, when Student Government President Payton Head took to Facebook to complain about bigotry, anti-homosexual and anti-transgender attitudes at the school after people riding in the back of a pickup truck screamed racial slurs at him.
"For those of you who wonder why I'm always talking about the importance of inclusion and respect, it's because I've experienced moments like this multiple times at THIS university, making me not feel included here," he wrote.