Removing hijab, finding myself
11/10/2015, 1 p.m.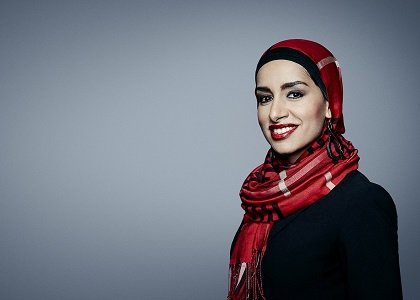 At 15, I never thought I would put it on. And by 18, I never imagined taking it off.
And today, I wear a headscarf, commonly known as hijab, part-time.
More than a year and a half ago, I decided to explore outside the boundaries of my scarf -- I removed it. It had taken me six years to make this decision.
The scarf symbolizes a collection of meanings for different Muslim women. Some would argue it is a requirement to cover a woman's hair and adhere to an understood "modest" dress code referenced in the Quran, the Muslim holy book. They consider it a religious duty. A must.
I once did, too.
Others drape it on for social and political motives. At a time when a woman's body is often depicted sexually in the fashion and media industry, it can feel liberating and empowering not caving into these idealized images.
Muslim women who reject mainstream fashion standards and choose hijab are making bold social and political statements. They are exercising their freedom of expression as Americans with protected rights, regardless of race, religion or gender.
But these are women who have a choice.
Let me not forget those who are forced to wear hijab unwillingly. They also exist. To their perpetrators, I say, "you do not represent Islam nor do Muslims want to be associated with you for imposing your political agenda on women."
Then there are those who ban wearing the scarf all-together, unjustly voiding women of their choice of representation.
Both ends of the spectrum of hijab, forcing it on or banning it, is bigotry feeding into egos of individuals obsessed with controlling a woman's image and freedom.
Irrespective of the reason behind the choice to cover, hijab remains an intimate and personal matter -- with sticklers on both ends of the wear or not-to-wear controversy, leading to heated debates by scholars within and outside Muslim communities.
Hijab, my niche
I was raised in a traditional household and was among those who did not choose to put on a scarf. Instead I complied and genuinely fell in love with what it symbolized for me: respect, modesty, restraint and dignity. Self-discipline defined it for me.
I was passionate about the topic to the point of becoming a sought-after public speaker on Muslim women and hijab, immersing myself in conducting hundreds of presentations to diverse populations at universities, churches, synagogues and interfaith groups.
I like wearing the hijab. It's beautiful and makes me feel regal and sophisticated. I feel at home wearing it -- it is my comfort zone, a part of my lifestyle.
It has become my brand. My niche.
But through life experiences and over the years, my understanding of the scarf has drastically evolved -- from a religious duty to a fashion statement and now an authentic form of social expression.
For me, the scarf has always been an unspoken part of my identity. It sits on my head so silently, yet says so much as a symbol. It makes me stand out from the crowd. It screams that I am different. And though my body is physically covered, the scarf puts all of me on display.