Sugar Ray Leonard Reflects on "No Más" 35 Years Later
Stacy M. Brown | 11/18/2015, 10 a.m.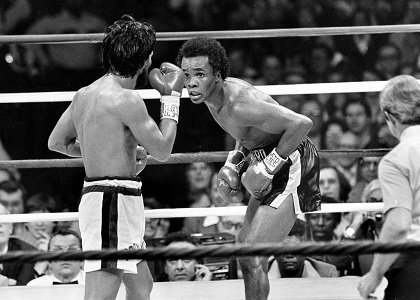 (NNPA) — Sugar Ray Leonard had no doubt that he'd defeat Roberto Duran when the two warriors squared off in a rematch of their epic first welterweight title bout that ended in a split decision victory for the Panamanian known as "The Hands of Stone."
What Leonard, the legendary six-time world champion didn't know was that Duran – one of the most feared fighters of his generation – would surrender after uttering the most-infamous phrase in the history of boxing, "No Más."
"I went into that second fight 100 percent sure that I was going to win," Leonard said in an exclusive interview with NNPA News Wire just prior to the 35th anniversary of his famous clash with Duran that took place before a sold-out crowd on Nov. 25, 1980 at the Superdome in New Orleans, La.
"I did everything that was necessary, I trained a lot more economically," he said, noting that he didn't expend the same amount of draining energy while training for his first fight with Duran in Montreal, Canada just five months earlier.
"I didn't allow Duran's antics to get to me," Leonard said.
On that fateful night, legendary music superstar Ray Charles – whom Leonard was named after – performed "America the Beautiful" prior to the opening bell and the young gladiator's confidence soared.
"That was it," Leonard said.
Now, 35 years later, Leonard who grew up in Palmer Park, Md. vividly recalled the events leading up to the first fight and the rematch as if it happened yesterday.
Duran, who entered the first contest at Olympic Stadium in Montreal with an astonishing 71-1 record with 56 knockouts, spewed vitriol at Leonard and his wife, infuriating the welterweight champion.
"He was nasty, I hated him," said Leonard, who entered with a record of 27-0 with 18 knockouts.
Leonard continued: "Duran was a veteran and he knew he could get inside my head, which he did. There was also a communication gap, because he didn't speak English that well. He challenged my manhood and made me feel less than a fighter, less than a man, and he used profanity toward my wife."
Leonard said he couldn't stand to be around his nemesis and shocked observers by choosing to brawl with the slugger, losing the decision and his title.
"I wanted to beat him so bad and I abandoned my style," Leonard said, noting that he over-trained for the first fight. "It's not an excuse, I lost, but he got into my head."
In the rematch, it was Leonard who got the mastery over his opponent, both physically and mentally.
"When he quit, however, it became more about what he did than what I made him do," Leonard said, echoing his long-lived lament that was captured two years ago in an ESPN documentary about the fight, titled "30-for-30 – No Más"
The documentary has re-aired on ESPN since its debut and is available at Amazon.com.
The film provided boxing fans a closer look at how Leonard outsmarted, out-punched and out-maneuvered Duran, before Leonard humiliated his foe with the famous 'Ali Shuffle,' mock bolo punches and even sticking his chin out daring Duran to hit him.