Sugar Ray Leonard Reflects on "No Más" 35 Years Later
Stacy M. Brown | 11/18/2015, 10 a.m.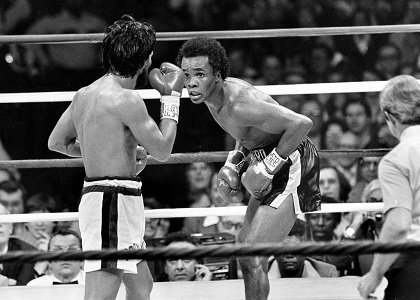 continued — At 2:44 of the eighth round, Duran threw up his hands and said, "No Más," quitting after realizing he had no shot at defeating Leonard, who, with the win, regained his welterweight championship.
"As a fighter, you just have to know some things, you just want to hear him finally say that he quit because he knew I had beat him," Leonard said of his trip to Panama to visit Duran that was captured in the ESPN documentary.
Duran never did confess to quitting in the ring that night, because he was being beaten and humiliated by Leonard. According to the world champ from Palmer Park, the Panamanian fighter still struggled with the loss when they met in his home country.
"When I saw him [in Panama] struggling with that, I didn't want to bring him down any further," Leonard said. "It's crazy, standing there with him in Panama, I was a nervous wreck and so was he. But, we are friends now."
While the Nov. 25, 1980 bout was a seminal moment in Leonard's hall of fame career, he still provided boxing fans with even more memories.
Less than one year after he beat Duran, Leonard fought Thomas "Hitman" Hearns in Las Vegas, Nev., on Sept. 16, 1981 to unify the welterweight title in a match dubbed "Showdown at the Palace."
"The thing with Tommy is that I had to disassemble him. He's such an anomaly standing nearly 6' 2" and super fast, Tommy was a beast and even my brother, Roger, thought Tommy would beat me," Leonard said, adding that even he had doubts.
"I fought the best way that I could in the early rounds," he said.
Looking around the packed arena, Leonard said he noticed all of the celebrities at ringside, including Muhammad Ali, Larry Holmes and others.
"I said 'Who in this arena can beat Tommy? I saw Ali, I saw everyone," Leonard said.
The turning point came in the sixth round of the scheduled 15 round slugfest.
"I hit him with a left hook and I said, 'Damn, I can hit too,'" Leonard said.
Later, after unleashing one of the most spectacular barrages in ring history, Leonard punished Hearns with flush right and left hands leading the referee to stop the fight in the 14th round and awarding Leonard a TKO victory.
A Gold Medalist in the 1976 Olympics, Leonard was named fighter of the decade in the 1980s and he would go on to win titles in five different weight classes including a memorable clash on April 6, 1987 with Middleweight Champion Marvelous Marvin Hagler.
With Hagler the heavy favorite, Leonard silenced all doubters.
"I remember looking at the sportswriters at ringside and I would nod my head at them," said Leonard. "After the ninth round, those guys started nodding their heads too because, they knew I was going to win."
Today, Leonard still keeps up with his idol, the ailing Muhammad Ali and he continues to immerse himself in charity and other endeavors including his Sugar Ray Leonard Foundation.
"Without Ali, I wouldn't be here," Leonard said. "He's hanging in there, he's a champion."
Finally, when asked how he thinks he would fair in his prime against today's best, Floyd Mayweather, Leonard laughed.
"We bump into each other and he says, 'I can beat you,' and I'd say 'you can't touch me,'" Leonard said. "I'm a fighter, a champion."