3 festive cocktails for the holidays
All can be largely made in advance, cutting down on day-of stress
Lyric Lewin | 11/19/2015, 2 p.m.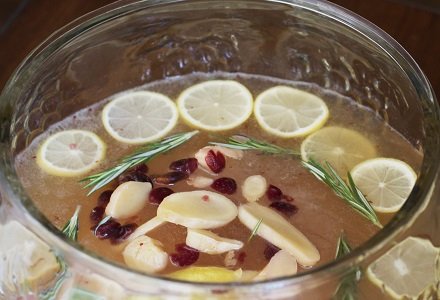 (CNN) — When Thanksgiving arrives and your extended family is tumbling through your front door in a mess of coats, hats and scarves, it's best to have those ambitious cocktails you planned on serving prepared ahead of time.
Part of the art of entertaining is knowing how to curate a great atmosphere for friends and family while making it look effortless, says Kellie Thorn, beverage director for celebrity chef Hugh Acheson's restaurants in Atlanta and beyond.
Thorn likens it to being "a swan gliding elegantly on top of the water, but underneath, your feet are kicking really fast."
The veteran bartender has lots of insights into serving flavor-complex cocktails while keeping a relaxed and jovial spirit in the kitchen. Part of that pacing, she says, is transition time. She suggests keeping cold bottles of Champagne and sherry in the fridge so you can pour an easy chilled beverage -- equal parts of each -- for your guests while you're working on the main event: dinner.
"Throw a drink in someone's hand (and keep one in your own hand at all times). It brings you back in touch with that joviality and ... will bridge whatever wait time you have while keeping you sane. Keep that smile and take deep breaths," Thorn said.
Thorn, who has long been attracted to the energy and people in the world of bartending, said the recipes she recommends are those that let you prepare most of the base ingredients ahead of time.
Thorn gave us three recipes that allow for things to be prepped beforehand.
"The night before, prepare as much as you possibly can. Get that anxiety out of the way so your guests don't feel and see that," she said. "And then the next day, you can compile all these well-thought-out flavors that you've put a lot of love and care into (making), but it looks effortless when they show up."
Each recipe serves 8-10 (or less, depending whom you're drinking with).
Mulled wine (served hot)
¾ teaspoon cardamom seed
4 heads star anise
1 cinnamon stick
1 teaspoon pink peppercorns
1 vanilla bean
6 bay leaves (fresh)
zest of an orange
zest of a lemon
1 cup dark raisins
½ cup honey
1 bottle quality full-bodied red wine (I used a La Linda Malbec)
1 cup port wine
½ cup cognac
¾ cup aquavit
The night before: Transfer the first four spices to a tea bag or cheesecloth. This way, you won't have to strain them out of the liquid later. Then add the wine, bay leaves and vanilla bean. Allow this to gently simmer, but do not bring to a boil. After about five minutes, add fruit zest, raisins, honey, cognac and aquavit. Allow this to gently simmer for about 20 minutes on low heat. Then pull from heat and steep for another 10 minutes. Strain and discard spices. Reserve the raisins for garnish.
This can be stored overnight in the fridge.
The next day: Transfer the mulled wine to a slow cooker and turn it on to the lowest setting about an hour before guests arrive. Do not let it boil.