Ravens defense faces dynamic Rams players with Baltimore ties
Todd Gurley and Tavon Austin grew up in Baltimore
Turron Davenport | 11/20/2015, 4:22 p.m.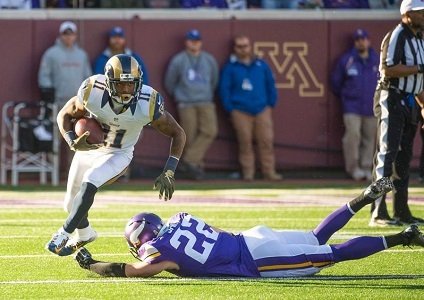 The St. Louis Rams boast one of the best running games in the NFL. They are averaging 130.9 yards rushing per game, which ranks them fifth in the NFL. The rushing game has found success in large part because of rookie running back Todd Gurley and Tavon Austin, the multidimensional threat.
Both Gurley and Austin have ties to Baltimore. Gurley lived in Baltimore until his family moved to Tarboro, North Carolina when he was a teenager. Gurley was born in Baltimore and says he grew up a Ravens fan.
"Yeah, man, all of my family is there. I grew up a Ravens fan," Gurley told Rams reporters. "It will definitely be a good feeling being able to play against a team I grew up rooting for."
Gurley said that he liked Ravens running backs Jamal Lewis and Willis McGahee, but his favorite player was Ed Reed. Coincidentally, Reed will be inducted into the Ravens Ring of Honor when the Rams play the Ravens on Sunday.
The NFL hasn't seen a running back enter the league and get off to a fast of a start as Gurley has this year. He has already gained 709 rushing yards after five games. Gurley has a unique blend of power and breakaway speed that reminds many of Adrian Peterson. C.J. Mosley agrees with the comparison.
"The main talk this year about the way he runs is Adrian Peterson. It's fair to say, because when Adrian gets the ball, he's trying to do the same thing," Mosley said. "He's trying to make that one cut and make one guy miss and trying to get a touchdown. That's probably the person you can compare him to."
Mosley spoke about how Gurley is a complete running back that can hurt a defense in multiple ways.
"He's a balanced back. He can run the ball three or four yards and get [most of] his yards up the middle. But if you give him a chance on the outside, he'll get to the edge and break a big play," Mosley said. "Anytime he touches the ball, he's looking for a touchdown. He started that in college, and he's doing the same thing this year in the NFL. Our main goal for him – when he has the ball – is everybody run to the ball and get a hand on him. That will be the main thing."
Austin is a dynamic playmaker that the Rams have finally found a way to get involved in their offense. Jeff Fisher said that Austin is actually underused.
John Harbaugh said that Austin gives the defense a lot to prepare for.
"This guy is a playmaker in every way. Start with the shots, double-move shots downfield," Harbaugh said. "Then they make him a ball carrier on the perimeter. It's almost a wing-T type of philosophy."
Like Gurley, Austin has ties to Baltimore. He grew up in the city and went to Dunbar High School before playing college football at West Virginia. Austin said that he comes back to Baltimore in the summer to do a free football camp for the youth. The camp takes place at a field that Austin played football as a youngster near Douglas High School.