Ravens defense faces dynamic Rams players with Baltimore ties
Todd Gurley and Tavon Austin grew up in Baltimore
Turron Davenport | 11/20/2015, 4:22 p.m.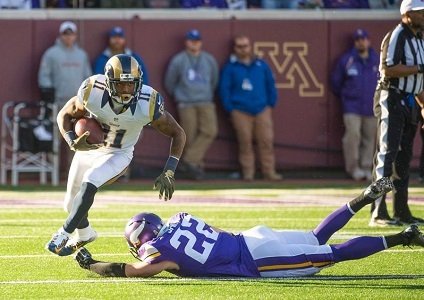 Austin and Gurley present a thunder and lightning like attack that creates plenty of problems. Defensive coordinator Dean Pees knows that he will have his hands full preparing for them.
"What impresses me about them is the fact that it's really a unique style of offense. Not only do they have talented players in No. 30 [Todd Gurley] and No. 11 [Tavon Austin], but the fact that their scheme keeps you going … Really, 11 is kind of a parameter guy and 30 is a downhill guy. It's different than what most of the teams in the league are doing," Pees said. "There's a lot of misdirection involved. It's a little bit like option football. You better be in the right spot all the time and take care of your responsibility, or you're going to get hurt. They can bust some big ones on you, and you've just really got to have great eyes and really sound, good, responsible football."
Harbaugh acknowledged that Gurley and Austin require special planning to stop. They make the defense have to prepare for both inside and outside runs.
"They have Gurley – who is as talented a back as I've seen in a long time in this league as a rookie – running between the tackles and the stretch-zone play. Then you have to defend Tavon on all the fly sweeps and the reverses. It's a misdirection offense that causes you a lot of trouble," Harbaugh said. "They've done a very good job of using those two guys that way, and we're going to have to have a great plan for it."