Ravens sticking together despite disappointing season
Turron Davenport | 11/27/2015, 6 a.m.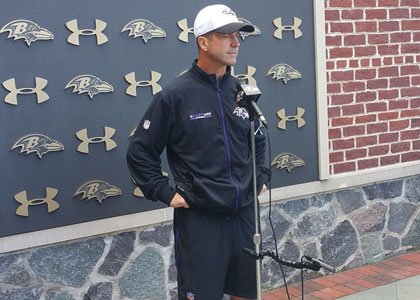 There were many analysts and prognosticators that picked the Baltimore Ravens to advance to the Super Bowl. Many people (myself included) said the Ravens had one of the top five most talented rosters in the NFL. Things have not gone the way anyone expected this season, to say the least.
The Ravens have a losing record and hold a very slim chance of making it to the post season. The season has been a disaster. The Ravens have a losing record at home and stumbled to a 0-3 start for the first time in franchise history.
This season was supposed to be one in which the Ravens celebrated their 20th season by adding another winning season to the team's history. The Ravens inducted Ed Reed into the Ring of Honor recently. It was a nice touch, honoring number 20 to commemorate the franchise's 20th season.
Rookie wide receiver and first round pick Breshad Perriman was placed on injured reserve before he saw a single snap with full gear on. Perriman joined Terrell Suggs and Steve Smith Sr. on injured reserve.
To make matters worse, Joe Flacco and Justin Forsett were both lost for the season during the Ravens game against the St. Louis Rams. The Ravens continue to employ the next man up mentality, even with after they lost Flacco, a player that has never missed a game in his career. All in all, the Ravens have lost a total of 14 players for the entire season.
The players on the team expressed confidence in Buck Allen and Matt Schaub, the players that will be called upon to step in for Forsett and Flacco.
"It was devastating. They are two great leaders on offense. I'm definitely going to pray for them, but, at the same time, we've got capable guys behind them. Matt Schaub is a veteran in this league," Brandon Williams said. "He's got a cannon for his arm and still has a lot of life left, and he's going to execute the best he can. We support him 100 percent. And you've seen what Buck Allen can do all season."
John Harbaugh was sure to mention how Flacco put the team ahead of himself and did what he could to finish the series despite what is said to be multiple ligament tears in his knee.
"He finished the whole series with two completely torn ligaments and stayed on the field with the clock running, because he knew if he comes off, now we have clock issues," Harbaugh said. "I told the team he's an absolute iron man, warrior-type of a player out there, and now it's his turn. We have to step up and rally up for him, just like he has done so many times for so many guys."
There's usually a lot of finger pointing and bickering whenever such high expectations are followed by the level of disappointment that 2015 has brought. It's easy to point fingers, but that's not what this team is about. Justin Forsett has kept a positive mindset despite the team not committing to the run and giving him the necessary carries to be successful.