Ravens sticking together despite disappointing season
Turron Davenport | 11/27/2015, 6 a.m.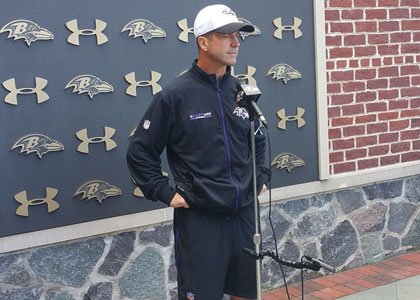 "We'll go out and prepare hard during the week. I'm just blessed to be with this team. I've been on other teams where we've been in this situation," Forsett said. "It's easy to point fingers and guys kind of separate. But we've been together; we've been fighting together and trying to get better each week."
It's a shame that Forsett broke his forearm in a game where the Ravens actually did commit to running the football. Buck Allen said that he has learned a lot from Forsett and knows he'll be able to lean on the veteran for help.
The team is closely knit, just like a family. When Steve Smith Sr. went down with an Achilles injury, almost every player stopped by his locker to offer their support. They said they will play the coming games hard just because they know how much he loved the game and can't play this season. That's a testament to how close this team is.
Elvis Dumervil was called for a penalty that put the Jacksonville Jaguars in position to kick the game winning field goal. Dumervil was down on himself because he felt that he cost the team the game. His teammates came out publicly and said the game should not have come down to the penalty and there were numerous plays that could have determined the outcome.
That's how a team that sticks together responds after losing a game the way the Ravens lost to the Jaguars. They still have fun at practice and attack each week with optimism. Joe Flacco talked about staying together as a group after he and Justin Forsett joked about their height difference before a press conference.
"I have no idea what our record is going to be at the end of the day, but we're going to keep fighting. We're going to go out there, and we're going to give our best every single week. We have a great group, and we're going to stay together," Flacco said. "We're going to come out of this thing on the other side together. That's the only way we know, and that's what we're going to do. We're here to work. We love to do this, and we're having fun out here, that's what it's all about. Obviously, we'd like to tack on some wins with that."
When John Harbaugh was first named head coach of the Ravens, he said that taking care of one another and sticking together was of utmost importance. That philosophy held true when the Ravens won the Super Bowl for Ray Lewis in his final season and it surely holds true in the worst season the team has had under Harbaugh.
The Ravens are sticking together and there are zero arguments or disagreements on the sidelines. They still go out and fight to win every game. They play the game for each other, along with those that can't suit up due to injury. Not once have they adapted to the "why me" mentality. It's the sign of a true family and that is a testament to the leader that the Ravens have in John Harbaugh.