Car Review: 2015 Cadillac Escalade 4WD Premium
Frank S. Washington | 10/5/2015, 3 p.m.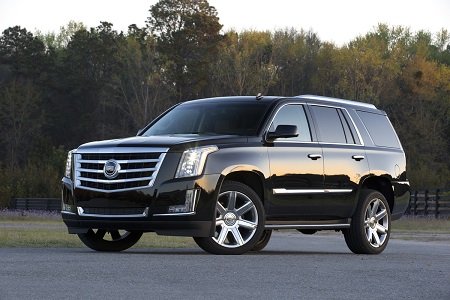 DETROIT (NNPA) — The Cadillac Escalade has reached cult status. No other reason explains why the body on frame, three-row sport utility's global sales were up by almost 70 percent through July.
Yes, gasoline prices are way down and that has lessened the onus of driving a big gas consuming sport utility. And no, more folks are not carpooling so the Escalade's three rows of seats are really not needed. Still, our test vehicle garnered awe as we drove around the city for a week.
We had the 2015 Escalade 4WD Premium model. It was powered by a 6.2-liter V8 that made 420 horsepower and 460 pound-feet of torque. Mated to an eight-speed automatic transmission, our test vehicle had an EPA rating of 15 mpg in the city, 21 mpg on the highway and 17 mpg combined.
Cadillac said, "A new four-wheel-drive system enables the driver to select an Auto mode for set-it-and-forget-it automatic activation when conditions call for extra traction assist. A separate 4 HI mode offers the most capability for more challenging conditions."
But it is not as bad as it sounds. Our test vehicle had a 26-gallon fuel tank. Thus, we had no need of visiting a gas station during our test drive. And we estimate that a fill-up would last about a week during normal driving. Cadillac has tamed the big V8 under the Escalade's hood. It was quiet, responsive to accelerator input and the engine ran smoothly at idle.
The Escalade is a traditional body on frame sport utility. And it sits on a truck chassis. It had an independent coil over shock front suspension and a solid axle with five-link and coil springs in the rear. Magnetic ride control was at work fore and aft and we think that is why any semblance to a truck ride was absent. Our test vehicle rode smooth, flattened out ruddy streets and it was quiet.
This was the fourth generation of the Cadillac Escalade. It has been redesigned. It had the familiar chrome grille and vertical LED daytime running lights in the front and the rear. The headlights and taillights were also LEDs. The taillights reached the top of the Escalade and featured Cadillac's wreath and crest insignia that lit up at night. Inlaid doors now fit into the body side openings instead of over the top of the body; that was another reason for the quiet running of our test vehicle.
Inside the Escalade had a layered leather, wood and suede looking accents with real stitching. There was ambient lighting, very comfortable seats and a reclining second row. Triple sealed doors were yet another reason for the Escalade's quiet running.
But it was inside the Escalade that we found something to gripe about. The shift stalk was on the column. The sport utility sits on a truck chassis so that should not have been a surprise. But the interior was so nice that the column gear stalk really did seem out of place. Of course, the full-size sport utility featured Cadillac's touch controls that have been made easier to use. There were voice controls, too.