Ebony 'Cosby Show' cover causes a stir
Venerated African-American magazine questions survival of Cosby's show
Ebony 'Cosby Show' cover causes a stir | 10/19/2015, 3:21 p.m.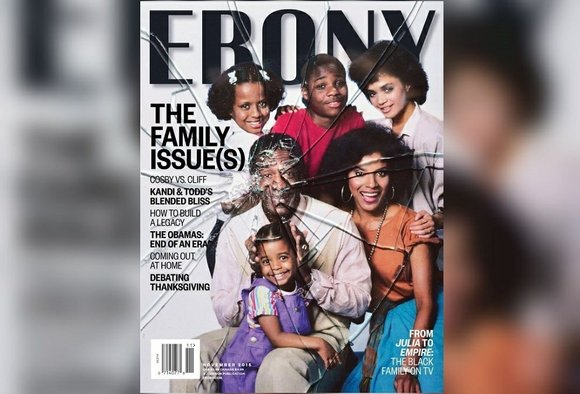 (CNN) — There was a time when it was de rigueur for black American households to have a subscription to Ebony magazine. Its pages were one of the only places in media where black families could see their faces, lives and interests reflected back at them.
And then came "The Cosby Show," the holy grail of media portrayals of African-American family life.
That's what makes the November cover of Ebony, which features an early portrait of Bill Cosby's TV family overlaid by shattered glass, so powerful and such a lightning rod for conversations within the community about Cosby's legacy.
Dozens of allegations of sexual misconduct against Cosby, denied vigorously by attorneys for the entertainer, have tarnished his reputation as a family man, and may have also erased his show's influence over not only African-Americans, but all Americans.
"If Bill Cosby is finished, what does that mean for Cliff, and the rest of the tribe called Huxtable?" asks writer Goldie Taylor in the cover story. The piece, which is excerpted online, explores the show's essential role in African-American life, particularly as a counterpoint to black stereotypes, when it debuted in 1984.
The edition's title, "The Family Issue(s)," nods at the magazine's decision to air the black community's dirty laundry. The image seems to signal that the dream is over -- black or not, Cosby's formerly adoring public can no longer look to him or his show for guidance and aspiration. But that's just one interpretation.
Ebony editor in chief Kierna Mayo and her staff deliberately set out to spark the heated conversation happening online about the cover. Mayo told CNN's Brooke Baldwin on Friday that she hadn't slept in two days due to the emotional choice.
"When you understand the soul of black America and you understand how important iconography is and you understand how important the image of black family perfection ... is, you realize that there's no way to do something like this without it being hugely conversational, if not confrontational, and in many cases painful for people," Mayo said.
Mayo said the cover isn't an attempt to convict the entertainer in the court of black opinion.
"We are simply asking African-Americans to have a very passionate, a very honest and a very forthright conversation about what this means."
Some Ebony readers are furious that the magazine is conflating Cosby's personal life with his beloved on-air persona. Many argue that the image convicts a man who's never been prosecuted for any of the alleged sexual assaults. Others criticize Ebony for being a black media outlet participating in tearing down a powerful black man.
"This is the lowest I've ever seen Ebony go! Wow! You would think Ebony, a Black magazine would be supportive! Smh...," wrote a commenter on Ebony's Facebook page. "'Dr. Huxtable' didn't do a thing! The other part of the family shouldn't have to suffer!"
"Shame on you 'Ebony,'" wrote another reader. "This cover is a disrespect to yourselves, your readers, and the beautiful image of the fictional Cosby family. Magazines articles are to uplift, not desecrate."