Weight watching? Here's how Oprah can help
Oprah Winfrey will become a member and part owner of the company
Ben Tinker | 10/20/2015, 1:30 p.m.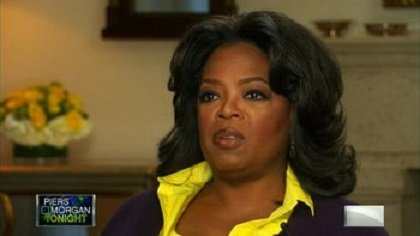 (CNN) — If you're looking to break a bad habit -- or form a new one -- science shows you're more likely to stick to it if you make the change on a Monday.
Perhaps it's fitting, then, that this announcement came on a Monday morning:
"Oprah Winfrey and Weight Watchers International, Inc. have joined together in a groundbreaking partnership to inspire people around the world to lead a healthier and more fulfilling life."
"Weight Watchers has given me the tools I need to begin to make the lasting shift that I and so many of us who are struggling with weight loss have longed for," said Winfrey in the press release. "I believe in the program so much I decided to invest in the company and partner in its evolution."
"We are expanding our purpose from focusing on weight loss alone to more broadly helping people live a healthier, happier life," said Weight Watchers President and CEO Jim Chambers, in the statement. "We believe that (Oprah's) remarkable ability to connect and inspire people to realize their full potential is uniquely complimentary to our powerful community, extraordinary coaches and proven approach."
History of Weight Watchers
Weight Watchers has been a powerful and effective tool in the fight against obesity since the program was founded in 1963 by Jean Nidetch, a self-described "overweight housewife obsessed with cookies.
After struggling to lose weight for years, Nidetch began hosting weekly meetings at her home with friends, to discuss their difficulties with dieting and exercise.
"Compulsive eating is an emotional problem," Nidetch told Time magazine in 1972, "and we use an emotional approach to its solution."
Abiding by her philosophy -- "It's choice, not chance, that determines your destiny." -- Nidetch managed to lose more than 70 pounds, and keep it off.
According to its latest earnings release, Weight Watchers currently has 2.8 million active subscribers worldwide, down from 3.4 million one year ago.
How does Weight Watchers measure up?
Weight Watchers works using a "points" system, where foods are scored based on protein, carb, fat and fiber content. Foods that are more nutrient-dense -- the ones that keep you fuller longer -- "cost" the least. The number of points you're allotted per day varies based on your age, height, weight and weight loss or weight management goals.
When U.S. News and World Report recently ranked 35 of the most popular diets, Weight Watchers tied for third place (alongside the Mayo Clinic Diet and Mediterranean Diet; and just below the DASH Diet and TLC Diet).
U.S. News called Weight Watchers a "smart and effective" diet, highlighting the upside that you can eat what you want and that no foods are off-limits. Downsides include the program's price and tedious point tallying.
Bottom line: "It's livable," said Dr. Melina Jampolis, a physician-nutrition specialist, who is not in any way affiliated with Weight Watchers. "With restaurants and holidays and parties, you have the tools to handle any eating occasion."
"It's based in real life, real food, real living," said Gary Foster, Weight Watchers' Chief Scientific Officer. "We're not a brand about exclusion, saying 'you must eat this' and 'you can't eat that.' You're in charge of what's in and what's out."