Outrage grows after South Carolina officer throws student in classroom
Details of what led up to the incident are sparse
Holly Yan and Kevin Conlon | 10/27/2015, 9 a.m.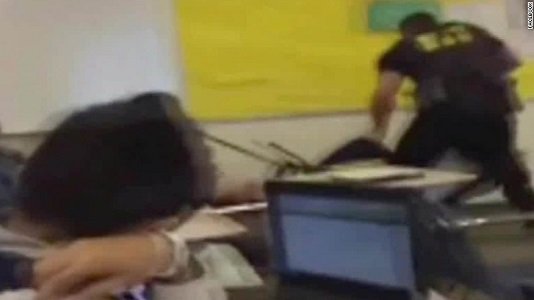 (CNN) — Even without the full context, even without knowing what happened beforehand, the video is appalling.
It shows a South Carolina school resource officer yanking a student from her desk, causing her to fall backward in her chair. He then throws her several feet across the floor.
Other students sit silently, with one student covering his face with his hand.
But the outrage was raucous on social media, with some calling for the officer's firing.
A violent confrontation
The incident started when a teacher at Spring Valley High School in Columbia told the student to leave the classroom, CNN affiliate WIS reported. When the student refused, the school resource officer -- Richland County Sheriff's Deputy Ben Fields -- was called in.
It's not clear what happened immediately before the cell phone video starts recording. But when it does, the school resource officer is heard telling the student to get up from her desk.
"You're either going to come with me, or I'm going to make you," he says.
The student doesn't budge. Fields tells her, "Come on, I'm going to get you up," and tries to pull her from the desk.
She falls backward in her chair, but the officer doesn't stop. He lifts her body slightly off the ground and hurls her several feet across the room.
David Klinger, a criminology professor at the University of Missouri-St. Louis, said the deputy's actions seem unjustifiable.
"It literally makes no sense, as I'm laooking at it, why he would escalate to that point -- pick her up, pick up the chair she's in, the desk she's in, and toss her," Klinger said.
"There may be some logical explanation, but I can't see it."
Shocked Twitter users couldn't understand it, either.
"I don't care what this kid supposedly did. She's a kid," Charles Clymer tweeted. "Did she threaten his life? No? End of discussion."
Julia Carmel wondered what would have happened if there was no video footage.
"When a cop can be as violent as the #AssaultAtSpringValleyHigh video in front of classroom audience, I fear what he'd do w/ nobody watching," she tweeted.
Sheriff 'very disturbed' by video
Sheriff Leon Lott saw the video and "was very disturbed by it," department spokesman Lt. Curtis Wilson said.
"He has questions like everyone has -- and he wants answers and once he has those answers, he will address them," Wilson said.
Fields has been placed on administrative duties. The school resource officer will not return to school pending an investigation by the department.
But Stephen Gilchrist of the Richland Two Black Parents Association said he wants an independent investigation.
As for the student, she faces a charge of disturbing schools and was released to her parents after the incident, Wilson said. He said another female, who might not be visible in the footage, was also arrested for disturbing schools.
No one was injured, the sheriff's department said.