AACC receives third National Award for Equity
10/30/2015, 11 a.m.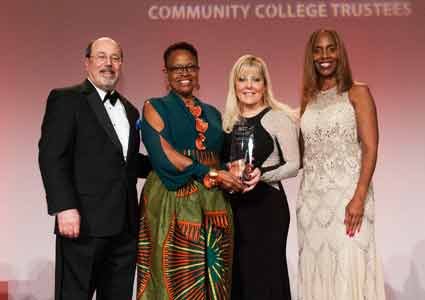 Anne Arundel Community College received the 2015 Charles Kennedy Equity Award from the Association of Community College Trustees at the ACCT Awards Gala October 16, 2015 in San Diego. This award is the third national recognition the college has received this year for its focus on diversity and inclusiveness in its policies, programs and procedures.
AACC President Dr. Dawn Lindsay and Board of Trustees Vice Chair the Rev. Dr. Diane Dixon-Proctor accepted the award on behalf of the college.
"When inclusivity and diversity are part of a college's core values, everyone benefits, especially our students," said Dr. Lindsay. "We have made equity a priority. Having this recognition strengthens our belief that we are on the right path."
According to the ACCT website, the winner of the Charles Kennedy Equity Award shows "leadership in setting policies, championing an environment of inclusivity and ensuring results for the success and enhancement and expansion of opportunities for women, underrepresented and underserved communities." Only the five regional equity winners were considered for the national award.
In addition to this award, AACC received the INSIGHT Into Diversity Higher Education Excellence in Diversity (HEED) Award and was honored as a 2015 National Role Model by the Minority Access Inc. as an institution committed to diversity.
"The ACCT Association Awards are among the most prestigious awards any community college, its trustees, presidents, faculty or staff member can receive," said 2015-16 ACCT Chair and Alamo Colleges (Texas) Trustee Roberto Zarate. "In addition to these individual recognitions, ACCT annually recognizes an outstanding community college initiative whose purpose is to achieve equity in the college's education programs and service, reflecting the association's commitment to equity and diversity in higher education."
For information about diversity at AACC, visit http://www.aacc.edu/aboutaacc/diversity.cfm