Blacks 'left behind' in New Orleans recovery
Freddie Allen | 9/3/2015, 2:30 p.m.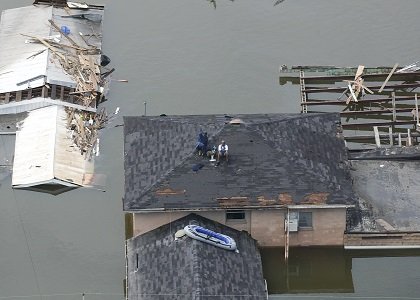 continued — Mayor Mitch Landrieu, who toured the U.S. inviting displaced residents to return home leading up to the anniversary of Hurricane Katrina, said that billions of dollars have been invested in parks, playgrounds, recreation centers and roads.
KatrinaTruth.org noted that only 11 percent of the families who lived in the B.W. Cooper, C.J. Peete, Lafitte and St. Bernard public housing developments collectively known as the "Big Four," before Hurricane Katrina flooded parts of city have returned to the rebuilt complexes.
More than 4,000 families are on the waiting list for public housing, 99 percent of whom are Black. Less than 20 percent of the public housing units that were available before Hurricane Katrina are available today.
"The Black residents that did make it back have faced neglect and exclusion during the city's recovery efforts," said Thomas Mariadason, a staff attorney with the Advancement Project.
Ten years after the levees broke flooding much of the city, and nine years after the city council voted to demolish the "Big Four," the Black population of New Orleans is still 30 percent lower than it was before the hurricane.
Thena Robinson Mock, project Director of Advancement Project's Ending the Schoolhouse to Jailhouse Track Campaign, said that the city council had the voting power to go in a different direction, but they didn't.
In the wake of Hurricane Katrina, thousands of veteran teachers lost their jobs and a deluge of charter schools washed over the city.
The website for the Katrina 10 campaign boasts that 92 percent of New Orleans' students are enrolled in charter schools and that the Black male high school graduation is 65 percent, higher than the 59 percent national average.
Researchers with KatrinaTruth.org allege that the success that charter schools tout is misleading because charter schools "have failed to accommodate students with disabilities or limited English proficiency, violating federal law and prompting civil rights complaints to federal agencies," the website said.
There were more out-of-school suspensions in 2013 than the total number of students in New Orleans public schools that year, according to KatrinaTruth.org and more than a dozen charter schools have higher suspension rates than the statewide average.
Womack argued that bussing children across the city to attend charter schools keeps families from being able to actively participate in their children's school life and it also makes it harder for children to join in extracurricular activities. Womack favored stronger community schools over the ubiquitous charter school system.
Mock said that the new privatized charter school system in New Orleans has also effectively eliminated democracy in education planning.
"Private charter school boards are not elected by the people, so the voices of parents and [students] are often lost in the decision making process around education," said Mock.
Womack said that the Black community has made significant contributions to New Orleans and Black residents, especially poor Black residents, should have been a priority.
"There are still a lot of people living the way they were living right after Katrina," said Womack,. "You still see many people living on the streets. Poverty is rampant and it won't go away by ignoring it."
PHOTO CAPTIONS:
cc_katrina_usgov A National Guard Humvee departs the New Orleans Superdome to patrol the streets after Hurricane Katrina devastated the city leaving thousands stranded. (U.S. Navy photo)
cc-katrina-14512 Aerial views of damage caused from Hurricane Katrina the day after the hurricane hit August 30, 2005. (Creative Commons)