Judge: Separate trials for six officers in Freddie Gray case
All six have pleaded not guilty to charges
Yan, Aaron Cooper and Ray Sanchez | 9/3/2015, 10 a.m.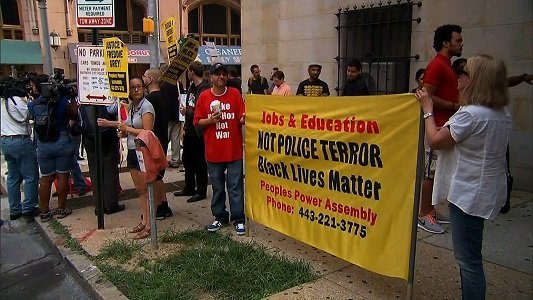 BALTIMORE (CNN) — A Baltimore judge ruled Wednesday there will be separate trials for each of the six police officers charged in connection with the death of Freddie Gray.
The ruling represented a small victory for the defendants on a day that Circuit Court Judge Barry G. Williams earlier denied two key defense motions in the case -- one seeking its dismissal for alleged prosecutorial misconduct and another calling for prosecutor Marilyn Mosby to recuse herself.
Prosecutors had asked that three of the six officers be tried together; defense lawyers argued for separate trials for each
Williams said holding the trials together as the prosecution requested "is not in the interest of justice."
Wednesday's pretrial hearing came almost five months after Gray suffered a fatal spinal injury while being transported in a police van. Gray's death in April sparked days of unrest in a city of more than 600,000 people about 40 minutes northeast of the nation's capital.
More than a dozen attorneys for the six Baltimore police officers charged in Gray's death pressed the court to drop the charges -- and for Mosby to at least recuse herself. They said Mosby's office had issued orders for police to crack down on the area where Gray was arrested.
Andrew Graham, an attorney for Officer Caesar R. Goodson Jr., told Williams that Mosby was reckless and unprofessional by pressing for convictions in an attempt to restore order in Baltimore when she announced the charges in May.
Mosby's comments make a fair trial "impossible," said Graham, who likened the prosecutor's announcement of the charges against the officers to a "pep rally."
"She was urging everyone, including potential jurors, to exact vengeance," he said.
Chief Deputy State's Attorney Michael Schatzow told the court that Mosby, who was at Wednesday's hearing, merely read a probable cause statement when the charges were announced and did not press for convictions or comment on evidence.
The judge said that while he found some of Mosby's statement and actions "troubling," they "do not rise to the level" of having the charges dismissed outright or preclude the defendants from having a fair trial.
Williams called a defense argument "condescending" that sought Mosby's recusal because her husband, Nick Mosby, is a councilman in a district that experienced rioting. He said he also agreed with the prosecution's assertion that Mosby's reading of a statement of probable cause did not make her a witness in the case.
In announcing the charges, Mosby said: "Mr. Gray suffered a severe and critical neck injury as a result of being handcuffed, shackled by his feet and unrestrained inside of the (Baltimore police) wagon."
The six officers face charges ranging from assault to murder. All six have pleaded not guilty. The officers were not in court Wednesday.
The trials are scheduled to begin in October.
City on alert
Activists held protests at the Baltimore City Circuit Court's east courthouse, behind City Hall, and elsewhere Wednesday. About an hour before the hearing, some people gathered outside the courthouse, holding yellow signs calling for justice in Gray's case. Police reported one arrest, for assaulting a police officer and disorderly conduct, when some protesters tried to block a street near the Inner Harbor.