Jimmy Carter: America's best former president
Lekan Oguntoyinbo | 9/4/2015, 6:17 a.m.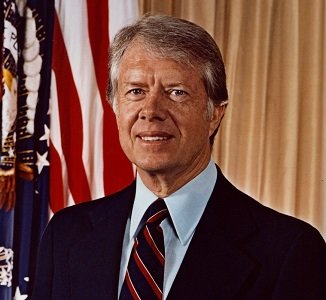 NNPA — I became an admirer of Jimmy Carter shortly after he took office as the nation's 39th president. I was 12 years old at the time. I felt differently about Carter than his predecessors. I actually felt a personal connection, like I could relate to him.
Like me, he was Baptist and like many of my relatives, he taught Sunday school. Unlike Richard Nixon, who left office in disgrace and who seemed to struggle with a host of demons, and unlike Gerald Ford, whose administration supported the apartheid South African regime's efforts to suppress liberation movements in Angola and Mozambique, he seemed well intentioned and decent.
So like millions of Africans, I was elated when in 1978 he became the first American president since Franklin Delano Roosevelt to make an official visit to the continent. FDR's visit to Liberia in 1943 was just a brief stopover on his way to Tehran. He needed something. It was in the midst of World War II and he wanted to implore Liberian President Edwin Barclay to end his country's neutrality and expel German expatriates. However, Carter was different. He seemed genuinely interested. He visited Liberia before heading to Nigeria, where he hung out for a few days. For those few days, our eyes were glued to the television as we watched him, his wife, Rosalynn; youngest daughter, Amy, and their entourage of more than 400 tour Lagos, Nigeria's commercial (and at the time its political) capital.
My personal connection soared on the Sunday of his visit when he worshipped at First Baptist Church Lagos, my grandparents' and parents' home church, and a congregation where my late grandmother, Comfort Okekunle Oguntoyinbo, was ordained a deaconess in 1946, becoming the first woman from our ancestral village to hold such a position.
We loved his seeming approachability and openness. We applauded his decision to place African Americans, including Andrew Young, in high profile positions. We saluted his efforts to help end white minority rule in Rhodesia and we were saddened when his political career was cut short at the polls by Ronald Reagan, a man many blacks around the world considered insensitive at best.
Over the decades, we watched delightfully as Carter reinvented himself as a statesman, laborer for Habitat for Humanity, peacemaker, champion of democracy, human rights activist and warrior in the battle against diseases such as guinea worm. His efforts abroad, earned him a well-deserved Nobel Peace Prize in 2002. He has been persistent in holding Nigeria, Sudan, Haiti and other countries accountable on human rights issues. He has served as an election observer in dozens of countries. He has complimented authorities in countries when the elections were free and fair. He has been outspoken when they weren't. He has been fearlessly outspoken about Israel's reckless disregard of the rights of Palestinians.
Jimmy Carter has been a relentless peacemaker who has championed the plight of Haitians. He was probably the first ex-president to call for re-thinking the misguided Cuban embargo.
At home, he is not been afraid to take on the most controversial issues. He has been quick to point out that much of the malicious criticism against President Obama is motivated by racism.