Ravens WRs coach helping others tackle sickle cell disease
September is National Sickle Cell Awareness Month
Turron Davenport | 9/11/2015, 6 a.m.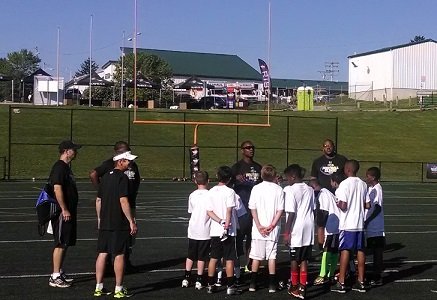 The Bobby Engram Foundation strives to provide hope, courage and opportunity to underprivileged children who suffer from chronic pain that affects their lives physically or emotionally.
Imagine being a father and seeing your daughters suffer through unbearable pain. Even worse, imagine not being able to make the pain go away.
This is what Baltimore Ravens Wide Receivers coach Bobby Engram encountered with his oldest daughter Bobbi and then with his other daughter Phoebe.
Engram has the trait for the hereditary blood disorder known as sickle cell. His wife Deanna also has that trait. This meant there was a one-in-four chance that one of their children would be born with the disease. Fortunately, his two sons Dean and Trey have not been struck with the disease.
Sickle cell disease affects the body's red blood cells, turning the cells into the shape of a crescent moon. The abnormal shape causes the blood to clump, which in turn causes severe pain. The severe pain is referred to as "pain crises" and causes a variety of problems that can complicate a child's life such as hip pain, joint pain and much more.
"You're confused and frustrated. You're angry. You go through this range of emotions and then you accept it," Engram said. "You learn and you educate yourself. It's a tough and horrible disease to grow up with. It can be an emotional drain on everyone. This is a real thing that needs to be dealt with. There's a lot that people don't know about sickle cell disease, like that it affects almost all races. It affects millions. It is the most common genetic blood disease in the country."
The United Nations classifies sickle cell anemia as "one of the most gangrenous common genetic diseases" in the world. It can lead to death. September was first recognized as National Sickle Cell Awareness Month in 1983 by the federal government to increase awareness of this painful disease and recognize it as a public health problem.
Those who suffer from sickle cell disease have to live with chronic pain throughout their lives. Sometimes the pain is so severe that it requires being admitted to the hospital and being treated with narcotics.
The disease causes deformed red blood cells to block the blood flow in a blood vessel. As a result, oxygen and nutrients don't reach the area that's covered by the blood vessels. Tissue in the affected area becomes very inflamed and at times it dies. The painful condition is described, "as though small heart attacks are occurring throughout the body."
The Bobby Engram Foundation was started as a result of his daughter Bobbi's desire to help other children who experienced her type of pain.
Engram enjoyed a long, productive career in the NFL, which allowed him to be able to provide the best care for his daughters. Unfortunately, they still had to endure the pain and suffering that sickle cell disease presents. The NFL was and still is a platform for Engram to raise awareness, search for a cure and help other families cope with the strains that the disease puts on them.