Black women mobilizing for 2016 vote
Jazelle Hunt | 9/15/2015, 9 a.m.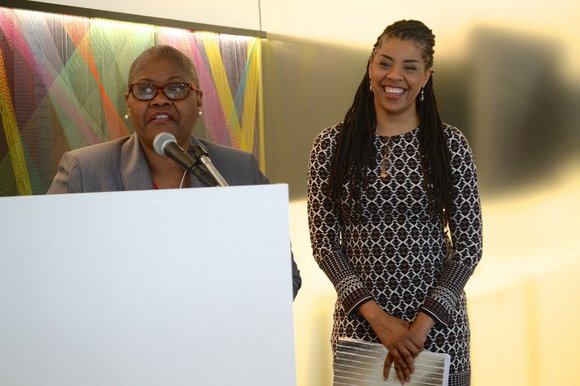 NNPA (WASHINGTON) — As the 2016 election cycle ramps up, Essence magazine and the Black Women's Roundtable have teamed up to mobilize and re-energize Black women voters.
The partnership hopes to raise the profile of the already-powerful Black women's vote. In the 2008 and 2012 elections, Black women had the highest turnout of any group, with 60 percent of 18- to 29-year-old Black women hitting the polls in 2012 despite a national decline.
"When we're engaged and folks address our issues, we turn out [to vote]. In turning out, we want to make sure our needs are met," said Melanie Campbell, president and CEO of the National Coalition on Black Civic Participation, and convener of the Black Women's Roundtable, a national civic engagement network.
She continued, "So we wanted to…get this information out early enough that it can resonate in the election cycle."
One way the partnership plans to do this is through its Power of the Sister Vote poll, which Essence launched with its readers last month. The results from more than 2,000 respondents were released this week as part of the Congressional Black Caucus Annual Leadership Conference in Washington, D.C.
"This year is the 50th anniversary of the Voting Rights Act, and we should not take that for granted," said Essence Editor-in-Chief Vanessa De Luca. "I wasn't surprised at all at how enthusiastic [readers] were about the survey. Unfortunately, it's so seldom that people ask. We got the opportunity to share our opinions."
Campaign season began early and under unconventional circumstances. Several candidates for the Republican nomination are pulling significant interest, making it difficult to identify a clear frontrunner and causing quiet divisions within the party. The Democrats have twists of their own – among them are an email controversy surrounding Hillary Clinton that threatens her run for the White House.
One advantage to this lengthy and uncertain election season is that Black women can better position themselves as a crucial voting bloc.
"What I do know is that I haven't seen us come together enough to leverage our political opinion. We need to get the sense of the timing. You always hear about [our high turnout] once the election's gone down the road," Campbell said. "It's to the benefit of our communities to make sure our communities are respected in 2016, and that our issues are elevated and addressed."
The Shelby v. Holder Supreme Court ruling, which nullified the Voting Rights Act's (VRA) protections against voter discrimination, has also helped create a unique political landscape for 2016. The states flagged for continued voting rights violations are home to a majority of Black women – without Sections 4 and 5 of this key civil rights legislation, these states have already begun redistricting communities and tightening voting requirements.
"The voting rights issue is definitely something Black women are concerned about. That issue will resonate not just as a policy issue, but a practical issue as well," Campbell stated, adding that without Congressional intervention, voters "will go into election season in January with people changing the rules willy-nilly."