'Thrones,' 'Veep,' 'Kittredge' big winners at Emmys
Viola Davis made history at the 2015 Emmy Awards
Brandon Griggs | 9/21/2015, 8 a.m.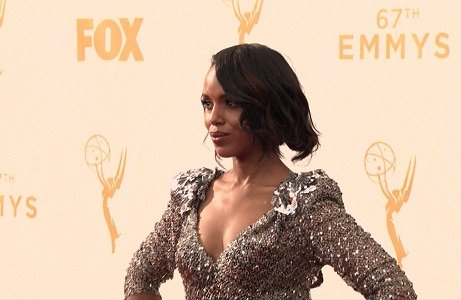 continued — "Kittredge" director Lisa Cholodenko and screenwriter Jane Anderson were also honored.
Earlier, actress Allison Janney won best supporting actress in a comedy for her role in "Mom," in which she plays the overbearing mother of a young adult daughter played by Anna Faris. It was Janney's sixth Emmy; she won five times before for "The West Wing."
The award was presented by Amy Poehler and the ever-provocative Amy Schumer, who quipped, "Let's not forget what this night is really about -- celebrating hilarious women and letting the Internet weigh in on who looks the worst."
Schumer won an Emmy for best variety sketch series for her Comedy Central show, "Inside Amy Schumer," which tackles such hot-button topics as misogyny and female sexuality. "This show fights for what we believe in," Schumer said.
It was also a good night for retiring fake-newsman Jon Stewart, whose "The Daily Show" won Emmys for best variety talk series and for its director, Chuck O'Neill.
The show opened with host Andy Samberg in a video that poked fun at TV's overabundance of buzzed-about shows. After being mocked by friends for not keeping up with popular new series, Samberg locks himself in a bunker and watches nothing but TV for a year until he emerges, hairy and wild-eyed, to annoy everyone around him.
Samberg then did a brief monologue in which he cracked jokes about diversity in Hollywood, Paula Deen on "Dancing With the Stars" and -- perhaps inevitably -- presidential candidate Donald Trump.
"Donald Trump is running for president, to the delight of uncles everywhere," Samberg said.
During Sunday's three-hour show the Television Academy handed out awards in 25 categories, culminating with the night's two biggest prizes: outstanding comedy and drama series. For those keeping score, HBO led all networks with 126 nominations (HBO is a unit of Time Warner, as is CNN). Far behind in second was ABC with 42, followed by CBS and NBC with 41 each.
The Television Academy announced new rules this year that allows all 15,000 academy members, not just smaller groups, to vote for awards -- a change some observers believe benefited shows with large fan bases such as "Game of Thrones."
The-CNN-Wire
™ & © 2015 Cable News Network, Inc., a Time Warner Company. All rights reserved.