What the Pope has said about key issues facing the church
He's talked about sex abuse by priests, climate change, abortion, homosexuality
Chris Boyette | 9/23/2015, 9 a.m.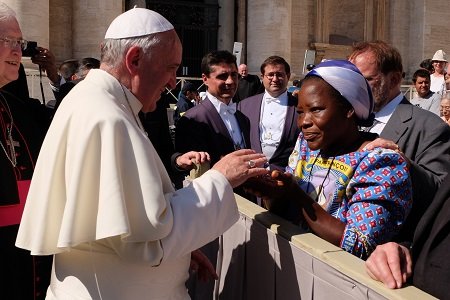 CNN — As Pope Francis prepares to visit the United States for the first time, the world is waiting to hear what he will say about key issues facing the church.
The Pope is known for tackling sensitive topics head on. But for all his surprises and proclamations, what has Pope Francis done to address the issues facing the Roman Catholic Church?
Sex Abuse
"I feel compelled to take personal responsibility for all the evil that some priests, many -- many in number, (although) not in comparison with the totality -- to assume personal responsibility and to ask forgiveness for the damage caused by the sexual abuse of the children. The church is aware of this damage. We don't want to take a step back in dealing with this problem and the sanctions that must be imposed."
-- Vatican Radio, April 11, 2014
In June 2015, Francis created a church tribunal to judge bishops who fail to protect children from sexually abusive priests. Since then, two U.S. bishops accused of covering up crimes of priests have stepped down.
In March 2014, the Pope met with six victims of church sexual abuse -- not the first such meeting between a pope and sex-abuse survivors, but it was the first of his papacy. On March 22, Francis appointed the Pontifical Commission for the Protection of Minors, headed by Boston's archbishop, Cardinal Sean P. O'Malley.
Previously, Francis had called for "zero tolerance" of sexual abuse by clerics, but critics accused the Vatican of being more talk than action.
Environment
"The Earth, our home, is beginning to look more and more like an immense pile of filth. In many parts of the planet, the elderly lament that once beautiful landscapes are now covered with rubbish."
-- June 18, 2015, Encyclical Laudato Si': On the Care of our Common Home
Pope Francis released a comprehensive statement about the environment, calling for "cultural revolution" to change our lifestyles -- ranging from materialistic distraction to our addiction to technology to our treatment of the poor.
And the Pope wasn't only talking to his Catholic flock. Francis said his letter was addressed to "every person living on this planet."
Citing scientific consensus on global warming, "doomsday predictions," warned Francis, "can no longer be met with irony or disdain."
The Pope criticized big business, oil companies and politicians that he said seek profit over the betterment of life on the planet and called out the media for being shortsighted. He said humanity's "reckless" behavior has pushed the planet to a perilous "breaking point."
"Yet all is not lost," Francis said. "Human beings, while capable of the worst, are also capable of rising above themselves, choosing again what is good, and making a new start."
The encyclical was published in at least five languages and was more than a year in the making, church officials said, drawing on the work of dozens of scientists, theologians, scholars and previous popes.
Women
"It is not enough to have altar girls, women readers. ... Women in the church are more important than bishops and priests," just as "Mary is more important than the apostles."