NCAA Final Four: Villanova, UNC easily advance to title game
Josh Hart leads Wildcats with 23 points; Oklahoma's Buddy Hield held to nine
Jill Martin | 4/4/2016, 9 a.m.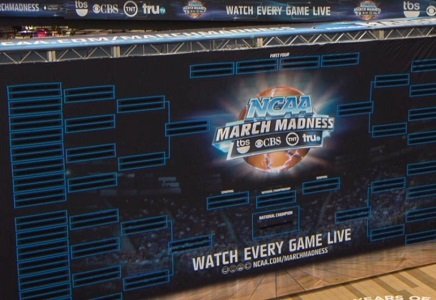 HOUSTON (CNN) — Heading into Final Four weekend, there were questions on how well teams could shoot in NRG Stadium in Houston, a 70,000-plus seat venue, primarily the home of the NFL's Houston Texans.
Villanova had an emphatic answer Saturday in the first NCAA Final Four semifinal: No problem whatsoever.
Junior guard Josh Hart scored 23 points to lead a balanced attack, and the No. 2 seed Wildcats defeated No. 2 seed Oklahoma Sooners 95-51 to advance to the NCAA men's basketball national championship game.
On Monday, Villanova (34-5) will face No. 1 seed North Carolina, which defeated No. 10 Syracuse 83-66 in the second semifinal.
Villanova head coach Jay Wright said "it simply was one of those nights."
"I'm happy we had one of those games where we just make every shot," Wright said. "We had end-of-shot-clock shots we just threw up and went in."
As a team, Villanova shot an incredible 71.4% from the field and won by the biggest margin ever in a Final Four game. It was the second-best field goal percentage of the men's Final Four, trailing only Villanova's 78.6 percent effort (22 of 28) in the 1985 national championship game against No. 1 Georgetown on April 1, 1985.
"We got whipped in every way," Oklahoma head coach Lon Kruger said.
It will be Villanova's first trip to the national championship game since that 1985 appearance, when the Wildcats were a No. 8 seed. UNC is a five-time NCAA champ, the most recent coming in 2009.
"I'll see you there," UNC senior forward Brice Johnson light-heartedly told a television reporter.
Hield struggles
This year's NCAA tournament had been all about Oklahoma's Buddy Hield, aka "Buddy Buckets." The senior guard from the Bahamas -- who is second in the nation in scoring this season at 25.4 points per game, had been lighting up the scoreboard for the Sooners (29-8), averaging 29 points per game in this year's tournament heading into the Final Four.
Saturday evening was a much different story.
Hield had his worst performance of the tournament. He was held to nine points on 4-of-12 shooting, including 1-of-8 from three-point range.
"Just credit (the Wildcats), what they were doing," Hield said. "Made it tough on me. Throwing a bunch of bodies at me. Just couldn't get it going.
"They made shots. We were trying to find a way to make shots. They just played terrific tonight. Sometimes shots were contested, and they made them, just played great. Hats off to Villanova. They deserved it."
Villanova's Hart, meanwhile, rarely missed. He finished 10-of-12 from the field.
Hart gave credit to his teammates.
"When you have guys like Kris Jenkins, Ryan Arcidiacono, Daniel Ochefu who can go off any night, even other guys, Jalen Brunson Phil Booth, Mikal Bridges have big nights," Hart said. "When they're aggressive, you know, it helps me, helps in the driving lanes. ...
"I definitely wanted to come in being aggressive and just try to help them make the right play."
This was a rematch for the two teams, with drastically different results. Oklahoma beat Villanova 78-55 on December 7 in Hawaii.