Lt. Col. Jason B. Davis Honored at Huber Memorial
'I Was Proud To Serve My Country'
4/8/2016, 6 a.m.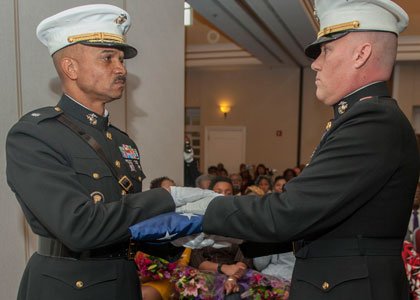 When Jason B. Davis left for the United States Marine Corps (USMC), on June 9, 1984, the Baltimore City College graduate was 18. Some 32 years later, and now age 50, Lieutenant Colonel Jason B. Davis has served 31 years, 8 months, and 20 days in the Marines. His military accomplishments read like those you might find in a Hollywood military movie. His deployments include Operation Desert Shield, Operation Desert Storm, and a tour of duty with the presidential helicopter 'Squadron HMX-1.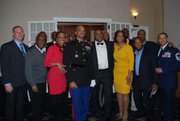 In 2013, the Baltimore native was promoted to his current rank of lieutenant colonel, and served as the avionics officer for the U.S. Marine Corps Forces Command Aviation Logistics Department. Davis holds the distinction of being the first African American lieutenant colonel to serve in this position. In this capacity, Davis served as a staff officer for a three star general.
Davis retired from the military earlier this year. In March, he was honored at a special surprise ceremony held at Huber Memorial Church on York Road in Baltimore. Having served in the military, he was taught to always be prepared. However, he was completely caught by surprise at Huber Memorial, where his mother Shirley Davis has been a longtime member. Reverend Dr. P.M. Smith is the church's pastor.
"I had no idea they were going to honor me," said Davis with a chuckle. "A lot of my family members were there for the program, but I thought they were there for my cousin. Pastor P.M. Smith started talking about my about my accomplishments, and my mom, who raised three boys. It was really touching to be recognized. It was humbling."
Davis' official retirement ceremony was held in February at The Clubs at Quantico located on the Marine Corps Base in Quantico, Virginia. He reflected on his 32-year military career.
"I knew I needed structure, so my plans were to go to college and to go into the military," said Davis. "The U.S. Marines called. I originally enlisted when I was 17, and left to serve when I was 18. I have spent my entire adult life in the Marine Corps. I had no idea I would stay in the service for so long, but I am glad I did. It shaped my life, and also allowed me to see the world."
Davis said his military career took him to California, Hawaii, Virginia, Japan, The Philippines, Saudi Arabia and many other places. He recalled his tour of duty in Afghanistan.
"I went to Afghanistan after 911," recalled Davis. "That was pretty scary because we were on the front lines of uncertainty. There was also the constant threat of shrapnel and bullets. I saw many war injuries, and some people died over there that I knew. But I was proud to serve my country."
His career included service as an enlisted Marine and warrant officer. His storied military career also includes deployments to the Mediterranean Sea aboard the USS Kearsage, participating in the Operations Noble Anvil and Shining Hope in Albania, and combat operations during Operation Joint Guardian in Kosovo. He also served aboard the USS Bataan in support of Operations Enduring Freedom and Swift Freedom.
One of Davis' proudest moments was becoming the first African American promoted to the rank of lieutenant colonel in the M ilitary Occupational Specialty 6302 Avionics Officer.
"I was 46-years-old at the time, and stationed in Norfolk, Virginia," he recalled. "I really felt extremely humbled and proud. I feel good about that because I believe I helped to pave the way."
Davis' awards include the 'Meritorious Service Medal', Navy and Marine Corps 'Commendation Medal,' Navy and Marine Corps 'Achievement Medal,' and 'Combat Action Ribbon.' He is the father of two daughters.
Davis said he is an advocate for enlisting in the service, and encourages youngsters to strongly consider a military career.
"The U.S. Marine Corps taught me how to be a leader, how to be a good follower, and about humility," said Davis. "It was all about maturity and responsibility. It also taught me about hard work and persistence. Serving in the military also allows you to learn a trade."
He added, "I did my best to serve my country, and hope that the legacy I left behind is helping others."