Urban teachers discuss anniversary of Baltimore unrest
Stacy M. Brown | 4/15/2016, 10:03 a.m.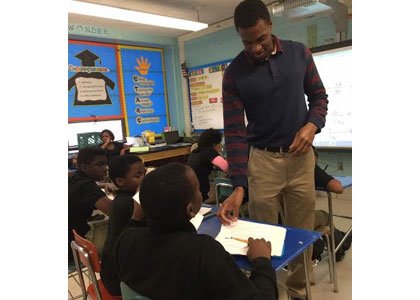 "I just don't give them information, I give a problem and I want them to think about it, talk about the problem and come up with solutions because things are not just given to you in real life," Gillis said.
The goal is to help the students learn to be independent thinkers, which Gillis believes could help prevent riots and unrest. He said many of the students live in neighborhoods where police are often around because of drug and other criminal activity.
"I want them to realize that police officers are people too. My students may have siblings or other relatives who dislike the police, but they're people and our discussions help to defuse falsities," Gillis said.
Discussions between the pupil and the educator, underscores another important factor in the success of the Urban Teachers program: in most cases, the teachers who emerge from the program usually can relate well to their students.
"I know what it's like to grow up poor and in a single-parent household," Gillis said. "My sister was my parent, my birth mother was a crack addict and my birth father distributed crack. I understand where we come from and I was able to overcome a lot of things and I know my students can overcome them, too."