Young woman inspired to study law to effect change
National Pre-Law Diversity Conference offers strategies
Ruth Young Tyler | 4/15/2016, 3 p.m.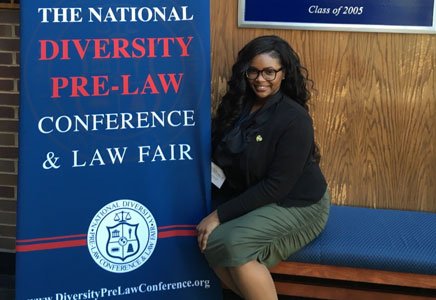 It was the one college course, "Criminal Law: Theory and Practice," which most sparked the interest of 23-year old Ashley N. Richardson, but the National Diversity Pre-Law Conference and Law Fair fueled her aspirations even more.
Hosted by Howard University School of Law, the conference attracted nearly 200 participants to the nation's capital on April 1 and 2, 2016. The national outreach, networking and empowerment event was designed specifically for a diverse population of aspiring lawyers from across the country.
The National Diversity Pre-Law Conference and Law Fair offered attendees seminars in diversity leadership, coalition building and collaboration and cultural competency. The aspiring law students were granted access to a myriad of tools and strategies that would groom them to take on leadership roles in the area of diversity and inclusion. The attendees were also encouraged to utilize their law degrees in the continuance of service, advocacy and social justice.
"Everyone's voice needs to be heard. When you have a voice, you have power," said Richardson, who believes the pre-law conference is channel to build a network and gain resources. "This is an opportunity for all of us [conference attendees] to make a positive impact in the lives of others."
Richardson graduated from Rutgers University with a double major in criminal justice and sociology and a minor in Africana Studies. She has been accepted to the Howard University School of Law and plans to attend in the Fall 2016.
Natalie Morales, a Northern Virginia native and a graduate of James Madison University also attended the conference says that the law is the foundation behind every concept, belief and movement.
"Our legal system is constantly evolving towards a doctrine that embodies that 'All men are created equal' but we still have economic and racial disparities on a global level. What inspires me to study law is that I will have the tools to efficiently combat the disparities that are not allowing our nation to move forward in an effective and thriving manner," Morales said.
Participants had the opportunity to speak one-on-one with representatives from a variety of law schools interested in recruiting them. All of the pre-law programs recognize the importance of diversity and inclusion at American law schools and the legal profession.
The conference presented guest speeches by thought leaders, practicing lawyers and panel discussions led by professionals. The event connected students with law school admissions advisors. Participants also gained information about career success they otherwise might not received from websites and other forms of media.
The keynote address was delivered by the Honorable Arthur L. Burnett, a retired senior judge from the Superior Court of the District of Columbia and currently, serves as the National Executive Director for the National American Drug Policy Coalition, Inc. Judge Bennett shared career highlights and interactions with Thurgood Marshall and James Madison Nabrit.
"The law is intertwined into every fiber of our existence, from education to healthcare, the food we eat and the water we drink," Richardson said. "It is imperative that we are well-versed in the law, so that we can serve as ambassadors to effect change."