Carpenter House celebrates 10 years of service with Building Blocks Awards Gala
4/22/2016, 7 a.m.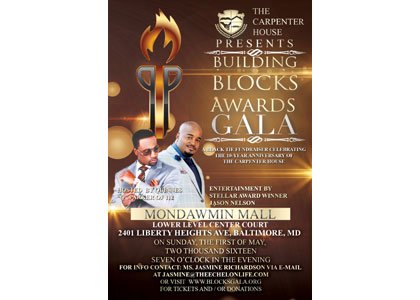 BALTIMORE — The Carpenter House will be celebrate its 10 year anniversary with the Building Blocks Awards (BBA) Gala black-tie fundraiser on Sunday, May 1, 2016, which will be hosted by Q Parker of R&B sensation 112, with a live performance by Stellar Award Winner Jason Nelson. In addition to the special awards presentation, the BBA Gala, will also include dinner and dancing.
Created with the mission to create affordable housing, funds raised at the annual BBA Gala will help provide adequate shelter for families in need. Since 2006, the Carpenter House has been committed to delivering services that rebuild communities through education, mentorship, physical activity and promoting a healthy lifestyle. The Carpenter House aims to strengthen and empower families from disadvantaged backgrounds by providing access to resources, activities, and environments that enable them to reach their highest social and economic potential. Recognizing that creating safe and affordable housing is the center for strengthening families, the Carpenter House addresses the issue through the Carpenter House Communities (CHC) program.
When asked about the annual Gala Chief Executive Officer and Founder of The Carpenter House, Keion Carpenter said, "Nobody cares how much you know until they know how much you care. Giving back to the city that has giving me so much, is a dream come true. The city will never be same after Sunday night May 1st!"
Working in partnership with local government agencies and community/civic organizations, CHC purchases and accepts donated homes within Baltimore City. CHC then rehabilitates the homes making them available to qualified low-income and single-parent families that would otherwise not be able to experience the dream of homeownership. Through a partnership with the Wells Fargo Community & Urban Stabilization Program and M&T Bank, The Carpenter House purchased its first home in 2015. Since its purchase, the home has been completely rehabilitated and currently has a single-parent family living in the home.
Mondawmin Mall is located at 2800 Liberty Road, Baltimore MD and the event begins at 7 p.m.
Tickets are $100 per person. For tickets or more information about the Building Blocks Awards Gala, visit: www.blocksgala.org.