Curtis Bay woman wins prestigious environmental prize
Stacy M. Brown | 4/22/2016, 6 a.m.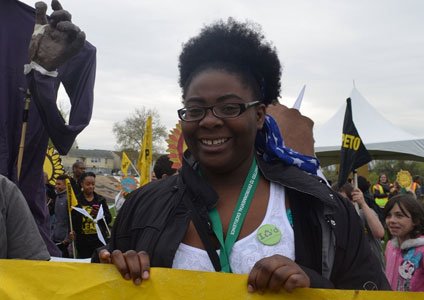 BALTIMORE — CAPTION: Twenty-year-old Charm City resident Destiny Watford is among the winners of the 2016 Goldman Environmental Prize, which carries a cash award of $175,000. Courtesy Photo
There are two fundamental criteria that recipients of the prestigious Goldman Environmental Prize must meet: Recent significant environmental achievement and that the achievement was accomplished through grassroots activism.
In Baltimore, a little destiny didn't hurt either.
On Monday, April 18, 2016, 20-year-old Charm City resident Destiny Watford was among the winners of the 2016 Goldman Environmental Prize, which carries a cash award of $175,000 and lots of notoriety.
"I have five kids and I just knew [Destiny] was going to be different," the gifted student's mother Kimberly Kelly told the Washington Post.
While the award winners were flown to San Francisco for Monday's awards presentation, Goldman Environmental officials declined to immediately make Watford and other winners available to the media.
Watford has previously said she was outraged that her community was once again "being dumped on" and that the health of her family and neighbors was being sacrificed for profit.
At 17, she led fellow students at Benjamin Franklin High School in a four-year campaign that mobilized Curtis Bay and stopped the construction of an incinerator.
After state officials approved a permit for a giant incinerator to burn 4,000 tons of trash each day and emit up to 1,240 pounds of lead and mercury each year, Watford sprang into action to stop it.
"Destiny is a debater, she wants to get her point across," her mother said.
Now, she is the recipient of one of the world's most prestigious environmental awards and the third youngest honoree in the history of the prize.
Her work to stop the incinerating was personal, Watford said.
She watched her mother struggle with asthma and also knew neighbors who were afflicted with respiratory disease. During the campaign, when she and other students asked members of an art class at Franklin High if any of them had asthma, "almost every hand shot up," Watford said.
The Washington Post reported that a 2013 study by the Massachusetts Institute of Technology found that 113 people per 100,000 Maryland residents— higher than in any other state— die as a result of emissions from car and truck traffic, trains and ships, commercial heating systems and industrial smokestacks.
Baltimore's rate was far higher, exceeding that of New York City and smoggy Los Angeles.
Watford's home in Curtis Bay is Baltimore's epicenter of pollution and bad health. Jutting into the bay where it meets the Patapsco River, it started out as a focal point for World War II era shipping. It later gained a coal burning power plant, a chemical processing plant, a medical waste incinerator and other industry, the Post reported.
In 2007 and 2008, Curtis Bay ranked worst in the nation for the release of toxic air pollutants, according to a report by the Environmental Integrity Project using emissions data from the federal Environmental Protection Agency.
The following year, it ranked second and Watford had no idea the incinerator had been approved for her community until she saw a story about it on the Internet in 2012.