Women's Exchange 'Made in Maryland' shop returns
Stacy M. Brown | 4/22/2016, 9:30 a.m.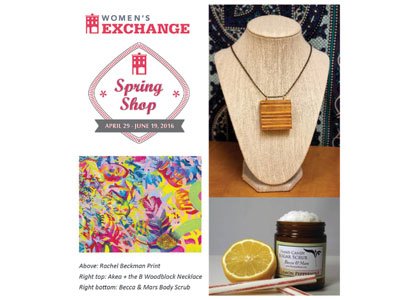 The Women's Exchange "Made in Maryland" spring shop is back.
Continuing its mission to inspire a community of women to discover and reach their potential, the Women's Exchange shop welcomes more than 75 artists when it officially opens for the season on Friday, April 29, 2016 in its retail space at 333 North Charles Street in the Mount Vernon neighborhood in Baltimore.
"We are expanding on our previous 'Made in Baltimore' Holiday Pop Up theme to feature products made across Maryland," spokeswoman LieAnne Navarro said in a news release. "The mission of the pop up is to promote, support and celebrate Maryland artists and craftspeople with an in-state only retail venue."
Open through June 19, 2016, on Thursdays from 4 p.m. to 8 p.m. and Friday, Saturday and Sunday from 11 a.m. to 6 p.m., the shop will feature vendors like Knit, Soy + Metals and Charm City Soaps, Triple-R-Farms Cowboy Jerky and Tiny Dog Press.
"We have received vendor applications from the Eastern Shore, Bethesda, Rockville, Westminster, Bel Air, and beyond," said Heather Bradbury, the Women's Exchange Board's vice president. "We have some new food items as well as new artists, and some of our returning artists are featuring new work"
The Women's Exchange was founded in 1880 by G. Harmon Brown, a local resident who aspired to help women in Baltimore and around the country earn a living without having to work at a factory or in other strenuous employment.
Three years after moving into its Charles Street location, officials added a shop to run a consignment store.
The Women's Exchange regularly served food in its dining hall, which in 1993 was used for a scene in the hit film, "Sleepless in Seattle."
The building at Charles Street also houses Jack and Zach Foods, which offers delicacies that reflect the owners' strong passion for food and their concern for sustainability. Jack and Zach pride themselves on their use of local meats and produce, relying on small farms around the state for fresh and high-quality ingredients.
With its fine Flemish bonded brick work and marble stoop, the Exchange also has seven apartments in the historic building that have been enhanced and modernized.
The historic shop and dining hall both closed in 2014 and the organization later formed an alliance with the Industrial Arts Collective to host a pop up last year.
"I think what excites us the most is that we are getting the shop back on its feet in a way that allows many artists to participate and the energy from the women's art community has been incredibly supportive and inspiring," Bradbury said.
"The conversations we have been having with different groups and people has really given us the opportunity to gather ideas and share our goals, and that exchange has been tremendously motivating. It almost feels like we are harking back to the origins of the organization in the 1880's," she said. "I imagine the excitement and hope of how it must have felt then for those women to be part of such an exciting time in the creative and maker community is what we are feeling again today."