Donors, sponsors generously support African-American History Museum
Stacy M. Brown | 8/18/2016, noon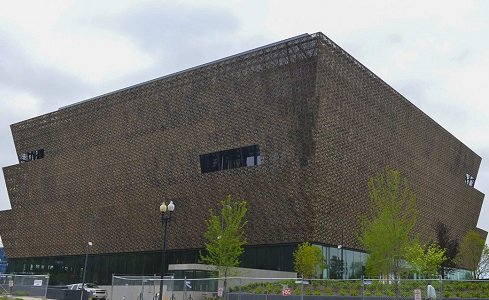 (NNPA) — Sponsorships and donations have been pouring into the new Smithsonian's National Museum of African American History and Culture (NMAAHC), which is set to open on Sept. 24 on the National Mall in Washington, D.C.
Most recently, the popular 1990s R&B group En Vogue donated their performance-worn dresses to the museum.
"Our dresses from the 'Never Gonna Get It/My Lovin' video and the 'Giving Him Something He Can Feel' video will be debuting in the Smithsonian African American History museum on September 24," group member Terry Ellis said. "So, we're really super excited about that."
NBA Icon Michael Jordan also announced this month that he was providing a $5 million gift to the museum along with his game-worn 1996 NBA Finals jersey.
The museum will reportedly place the famous jersey in a wing called "Michael Jordan Hall," that will feature stories of 17 historic athletes.
In a news release, Jordan noted athletes like Jesse Owens whose "talent, commitment and perseverance broke racial barriers and laid the groundwork for the successful careers of so many African-Americans in athletics and beyond."
Also, in a statement, museum director Lonnie G. Bunch III said Jordan's contribution will enable museum "visitors to explore how sports were used to break barriers as a way to gain full participation in American society."
The National Museum of African American History and Culture is the only national museum devoted exclusively to the documentation of African-American life, history, and culture. It was established by an Act of Congress in 2003, following decades of efforts to promote and highlight the contributions of African-Americans, according to the museum's website. To date, the museum has collected more than 36,000 artifacts.
Nearly 100,000 individuals have become charter members of the museum and, when it opens, it will be the 19th and newest museum of the Smithsonian Institution.
Museum officials noted the four pillars upon which the NMAAHC stands: It provides an opportunity for those who are interested in African-American culture to explore and revel in this history through interactive exhibitions; It helps all Americans see how their stories, their histories, and their cultures are shaped and informed by global influences; It explores what it means to be an American and share how American values like resiliency, optimism, and spirituality are reflected in African-American history and culture; and it serves as a place of collaboration that reaches beyond Washington, D.C., to engage new audiences and to collaborate with the myriad of museums and educational institutions that have explored and preserved this important history well before this museum was created.
Earlier this year, The Hartford, a popular financial services company, announced its founding sponsorship of the museum. The company made a $1 million contribution over five years to support the design and construction of the building.
"The Hartford has been a part of American history for more than 200 years, growing, thriving and changing along with our nation," said Susan Johnson, head of diversity and inclusion at The Hartford. "We are proud to be a founding sponsor of the National Museum of African American History and Culture and celebrate the important contributions of African Americans to the American Dream."