Donors, sponsors generously support African-American History Museum
Stacy M. Brown | 8/18/2016, noon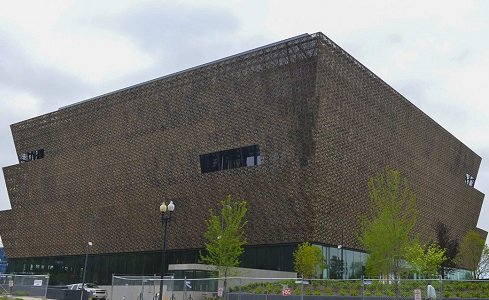 continued — On Feb. 22, 2012, the Smithsonian broke ground on the NMAAHC at a five-acre site on Constitution Avenue between 14th and 15th streets in Northwest Washington, D.C.
The 400,000-square-foot building has five levels above ground and four below. It will have exhibition galleries, an education center, a theater, café and store as well as staff offices.
Pinnacle donors – those who have contributed $20 million or more – include the Lilly Endowment Inc., Robert Frederick Smith, and the Oprah Winfrey Charitable Foundation.
Capstone donors – those who have contributed at least $10 million – include the Atlantic Philanthropies, Bill & Melinda Gates Foundation, The Andrew W. Mellon Foundation, The Rhimes Family Foundation and David M. Rubenstein.
Cornerstone donors – those who have contributed at least $5 million – include 3M, American Express, The Boeing Company, Ford Foundation, GE, Robert L. Johnson, Kaiser Permanente, The Rockefeller Foundation, Target, United Health Group, and Walmart.
Keystone Donors – those who have contributed at least $2 million – include 21st Century Fox and News Corp, Bank of America, The Walt Disney Company, W.K. Kellogg Foundation, Kovler Foundation, Medtronic Foundation, The Moore Charitable Foundation/Louis Moore Bacon, Stavros Niarchos Foundation, Northrop Grumman, Prudential, Smithsonian Channel, Earl W. and Amanda Stafford, Patty Stonesifer and Michael Kinsley, Time Warner Foundation, Toyota, United Technologies Corporation, Walton Family Foundation, Anthony and Beatrice Welters and the Vincent Wilkinson Foundation.
Verizon, Xerox, Wells Fargo, Google, Tyler Perry, New York Life, MetLife Foundation, Fed Ex, Ford Motor Company Fund, General Motors and a host of others have donated at least $1 million, making them "milestone donors."
"After more than a decade of hard work and dedication on the part of so many, we will open the doors of the museum and let visitors see that it is a place for all people," Bunch said in an earlier statement.
Bunch continued: "We have created exhibitions and programs designed to unite and capture the attention of millions of people worldwide. It will be a place for healing and reconciliation, a place where everyone can explore the story of America through the lens of the African American experience."
The National Museum of African American History and Culture officially opens to the public following the dedication ceremony on Saturday, September 24, 2016. The museum keeps its doors open for extended hours Sunday, September 25, from 10 am to 10pm.