Raymond V. Haysbert Sr., Entrepreneurship Center named in honor of famed businessman
Ursula V. Battle | 8/19/2016, 6 a.m.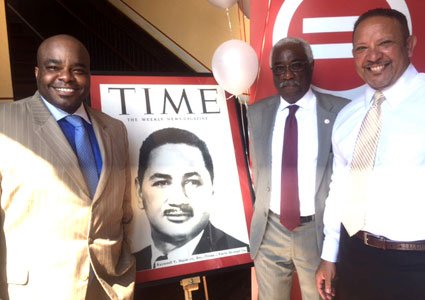 BALTIMORE — On Tuesday, August 2, 2016, national leaders, elected officials, members of the city and state business communities, and others gathered for the Ribbon Cutting of the Raymond V. Haysbert, Sr. Entrepreneurship Center at the Greater Baltimore Urban League (GBUL). The Haysbert Center provides assistance, support, and mentorship to entrepreneurs in their efforts to start or expand businesses, by providing resources, offering workshops, seminars and individual counseling by business experts.
"This was the official opening, but the Center has been functioning for the past two months," said J. Howard Henderson, president and CEO of the Greater Baltimore Urban League. "We have met with over 30 small businesses doing one-on-ones and workshops. We want to be the center of connectivity for small businesses. Ultimately, we want to grow Baltimore's black businesses."
The Haysbert Center also provides technical assistance in drafting business plans and proposals and completing loans and government applications. Services provided by the Haysbert Center are free for all clients, and is named after Raymond V. Haysbert, Sr., the late CEO of Parks Sausages Company and the former chairman of the Greater Baltimore Urban League Board of Trustees.
"I knew Mr. Haysbert very well," said Henderson. "He never looked down on anyone, and always wanted to help. He was a great guy."
The Greater Baltimore Urban League (GBUL) helps disadvantaged Marylanders gain access to equal opportunity in employment, education, healthcare, housing and the civic arena. As one of the local affiliates of the National Urban League, GBUL defines its mission to enable African Americans and other minorities to secure economic self-reliance, parity, power and civil rights.
William Honablew, Jr. will serve as the center's director, which was created with funding from the U.S. Department of Commerce, the Baltimore-based Abell Foundation, and Wells Fargo Bank. The dedication of the Haysbert Center also coincided with the opening of the National Urban League 2016 Conference, which took place August 3rd through August 6th at the Baltimore Convention Center.

Baltimore is home to the 13th Urban League Entrepreneurship Center. Additional centers are located in Atlanta, Jacksonville, Fla., Los Angeles, and other areas.
"This is a great event, and has been many months in the making," said Marc Morial, president and CEO of the National Urban League. "We decided to dedicate this center after the Freddie Gray incident. It represents the Urban League's commitment to being a part of the solution here in Baltimore. A whole host of people came together to make sure we got to today. I knew Mr. Haysbert personally, and his reputation at Parks Sausage. He was a great man."
During his lifetime, Haysbert owned and operated more than 15 businesses, which included the Parks Sausages Company and The Forum Caterers. He was a founder of Advance Federal Savings & Loan, Harbor Bank of Maryland, and United Founders Insurance Company. He also helped to found several business organizations, which included The President's Roundtable, and The Greater Baltimore Chamber of Commerce.
The Cincinnati, Ohio, native served with the famed Tuskegee Airmen, and was the recipient of numerous honors and awards.
"It is fitting that they would name this center after my father," said Nikita Haysbert. "There was nothing he didn't feel strongly about. This is a wonderful addition to his legacy. So many people talk to me about the impact he had on their lives. Most of the stories are about how my father mentored them about starting their own businesses. I am very grateful."