Trump's speech in Wisconsin addresses poverty, crime in the black community
Lauren Victoria Burke | 8/22/2016, 9 a.m.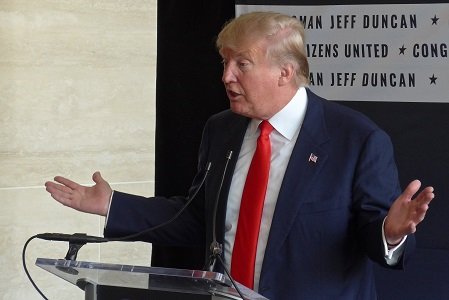 continued — The Republican nominee's speech arrives less than a week after the Department of Justice released a detailed and shocking report on the behavior of members of the Baltimore Police Department. Trump made no reference to the report, during his speech.
Trump also alleged that bad international trade deals that Hillary Clinton supported led to the decline in manufacturing jobs and an increase in Black unemployment.
The poverty rate for Wisconsin's Black residents was 39 percent and poverty rate for Whites living in the state was 11 percent, according to researchers from the University of Wisconsin at Madison. Nationally, the poverty rate for Blacks was 27.4 percent, compared to a 9.9 percent poverty rate for Whites.
Trump called for school choice, merit pay for teachers and a massive tax cut for workers and small businesses. He also said that he would renegotiate NAFTA and "stand up to China."
The reality show star turned Republican presidential nominee promised, "to support more police in our communities, appoint the best prosecutors and judges in the country" and to "pursue strong enforcement of federal laws."
Trump added: "To every lawbreaker hurting innocent people in this country, I say: your free reign will soon come crashing to an end."
Lauren Victoria Burke is a political analyst who speaks on politics and African American leadership. She can be contacted at LBurke007@gmail.com and on twitter at @LVBurke.