North Avenue Rising Project promises efficient, effective transit
Tiffany Mason | 8/26/2016, 9:01 a.m.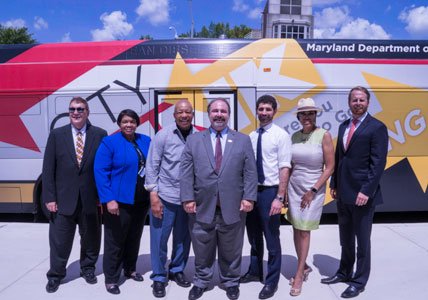 BALTIMORE — Last school year, Brittany Patterson's commute to work started at 5:45 a.m. on the 91 bus from Garrison Boulevard and Bateman Avenue. A few stops away at North and Bloomingdale, a block from Hilton Street, the crown of the corridor, she would get off and wait inside the bus shelter in front of the Walbrook Branch of the Pratt Library for the 13 bus with her two-year-old daughter asleep in her arms.
The 13 took her to Penn-North Metro Subway station, where she caught the train downtown to catch another bus over to the East side to her daughter's daycare. From there, she went to her job as a classroom aide at Harford Heights Elementary School, situated near the rear end of the North Avenue corridor at Broadway.
The Penn-North station plays a vital role in Patterson's everyday travels. Without it, getting to work would take a lifetime.The same is true for the nearly four million passengers who use the North Avenue corridor to connect to places of work, home and play throughout the city.
To that end, North Avenue, the Maryland Transit Administration's (MTA) second busiest bus line, is getting a makeover as part of Governor Larry Hogan's transformative BaltimoreLink Transit improvement plan.
Earlier this month, the MTA was granted $10 million of federal funds to complete the North Avenue Rising Project, which aims to revitalize the community and improve transit in Baltimore. The funds come from the U.S. State Department of Transportation's Transportation Investment Generating Economic Recovery (TIGER) Grant. The grant compliments $14.7 million committed by MDOT, $1.6 million from U.S. DOT's Federal Highway Administration and $1 million from Baltimore City.
"I want to make sure that we who have cars don't forget about the people who have to take buses," said Congressman Elijah Cummings at an August 12 press conference. "Transportation allows people to be able to live; it brings life to life."
North Avenue was already included in the MTA's $135 million revision of the citywide transit network. Most of the evidence of this plan at work is in midtown, between Howard Street and Greenmount Avenue. Street trees have sprouted from manicured median strips, bus shelters have been redesigned and beautified, and bike facilities are no longer few and far between and bike lanes have been placed on streets crossing the corridor in Charles Village like Guilford Avenue's Bike Boulevard. Additional federal funds have secured improvements to the rest of the corridor that include dedicated bus lanes, transit signal priority at intersections, streetscaping, roadway re-paving, and enhancements to the Light Rail and Metro Subway stations.
Replacing transit infrastructures on North Avenue is about more than impacting the flow of traffic by adding of bike and bus lanes. It's also about improving the quality of life for residents and reconnecting the city.
The transit-sector is a vital component of today's global economy. Economic and development opportunities have become increasingly related to the mobility of information, goods and people. Efficient transport systems provide social opportunity and benefits that include increased accessibility to markets, schools, and employment that have a multiplied effect on the entire community.